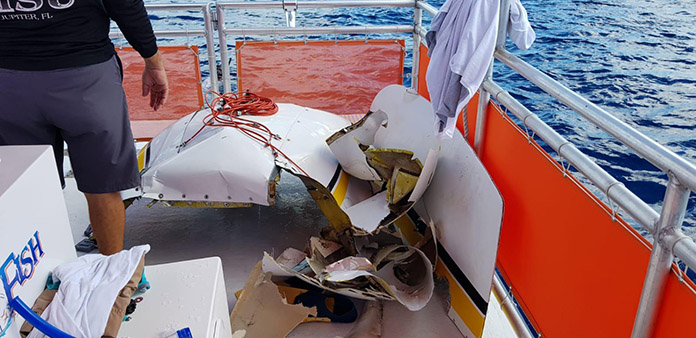 Nassau – Well, after one week lost at sea -and the Royal Bahamas Defence Force and other agencies like NEMA/POLICE/BASRA having fallen asleep at the wheel again – volunteers from the HeadKnowles group brought together divers who found parts of the missing plane that went off radar sometime after 8pm a week ago.
The dive teams after less than one hour of their search – recovered key parts of the aircraft, which was reportedly crashed on Thursday last week.
Since our last report, aviation investigations confirmed that missing pilot Byron Ferguson did indeed file a flight plan before his departure from Lantana Airport in West Palm Beach, contrary to the statement by Minister of National Security who said, in the days following the crash, that a Flight Plan was not filed.
Bahamas Press can also confirm that the pilot, who is still missing at sea, was in constant contact with air traffic controllers, both in West Palm Beach and at LPIA, during his journey into New Providence. He, according to controllers, followed all protocols and procedures when he encountered trouble onboard.
From our information we understand, although it was a clear night with almost a cloudless sky, his plane suddenly went off the radar into the sea just a short distance from LPIA. And we wonder what could have happened to cause this sudden disappearance if missing pilot Ferguson was already on an approach to land?
The group of volunteers discovered some wreckage just a few miles off land. On the night of the crash it was reported that the plane was found but searchers abandoned the site to return the following morning. The next day everything was said to be lost.
All we at BP say is this – WE MUST DO BETTER! Marvin Dames gatta stop telling lies on the innocent. And our country must have a better system of recovery in incidents like this. Bahamians cannot just drop out the air and there is now search/recovery agency!
Has anyone noticed we have yet to hear one word from the Minister for Aviation Dionisio D'Aguilar? This incident reminds us of the crash off Andros recently where authorities abandoned the search days following the crash where several persons perished. And yet private residents discovered the victims weeks later.
We at BP are deeply sorry for the loss of the family, and tonight we send our prayers up for the wife and family. Lord Have Mercy!
We report yinner decide!