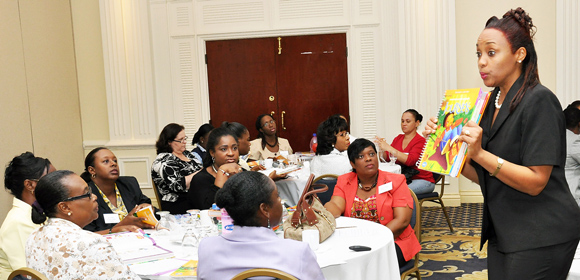 Nassau, Bahamas — Public and private school educators from throughout The Bahamas attended a one-day workshop on Tuesday, 19th October, 2010 at the British Colonial Hilton to discuss and examine best practices for teaching Language Arts, Mathematics and Science in Bahamian schools.  The teachers and administrators were also introduced to new teaching materials by representatives of Houghton Mifflin Harcourt, a global publishing company and the sponsor of the workshop.
Permanent Secretary in the Ministry of Education, Mrs. Elma Garraway applauded the international publishing giant for partnering with the Ministry of Education for many years to advance education in The Bahamas.   Mrs. Garraway, who opened the forum noted that the Ministry is extremely pleased with the partnership that has existed between the Ministry and Houghton Mifflin Harcourt for many years; which has gone beyond the traditional business arrangement, to one whereby the company has "grown with us and has been consistently responsive to our needs specifically in the area of the curriculum".
She also recognized them for their assistance in the areas of sponsorship of various professional development workshops for teachers and leadership workshops for administrators. The company has also facilitated teachers' participation in international workshops and training sessions for the Rigby Reads and Iowa Mathematics Assessment tests for primary school students.
Permanent Secretary Garraway further stated that, "Most commendable is their (Houghton Mifflin Harcourt) efforts in causing more books written by Bahamian teachers to be published for use in our classrooms".
Mrs. Garraway advised the workshop participants to be mindful of the pace at which they are taking their children from the concrete to the abstract concepts in Science and Mathematics as this has caused tremendous problems for students in adulthood.  She cited research conducted by the University of the West Indies indicated that students' problems in certain science courses were traced to the problems in Mathematics at the lower primary grades. The Permanent Secretary stated that a similar result is experienced by our primary school students as indicated by the results of the Rigby Reads, IOWA Mathematics Assessment and GLAT examinations.
Teacher, part-time College of The Bahamas lecturer and author, Ms. Sharmane Miller also spoke at the opening pointing out to teachers that best practices is simply doing what works well for students to learn.   Ms. Miller encouraged teachers to focus on learning that is student-centred, social, cognitive, developmental and challenging.   She cautioned them not to oversimplify their teaching as children are already exposed and often deal with complex information outside of the classroom.