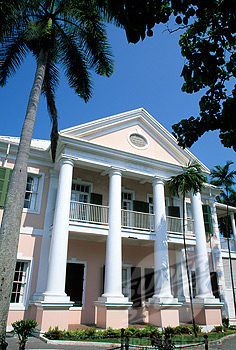 Nassau, Bahamas — Bahamas Press took note of Wednesday's front page story in The Nassau Guardian, entitled, "Police call for backup at Central" (on Saturday, Oct.23). The gist of the article states that on Saturday (Oct. 23), a man showed up at Central Station demanding to know why his girlfriend was being held in custody. The man became increasingly hostile while in Central Station, hence the policewomen, on duty at the time, were intimidated to the point that they called for backup. That is the long and short of the Guardian's story.
Bahamas Press once again cries shame on the wultess media, in this case, The Guardian, for labeling the man an "alleged" drug dealer, when it is widely accepted that the man, is a drug dealer—his name Steven "Die" Stubbs.
Bahamas Press also considers him to be, Public Enemy # 1 when it comes to terrorizing the police or the public in the presence of the police! And it seems that Stubbs also has at least one 'terror-disciple', keeping the police and the public on pins and needles, daily, around Central Station and Bank Lane— she goes by the name of Carolyn Pinder. She can be found five days a week by the Supreme Court. In fact she recently brought her own chair to be more comfortable!
Bahamas Press is in the process of ascertaining whether this is the same Carolyn Pinder, who is presently out on bail for murder (just like 'Die' Stubbs) and has a sister that lives in Nassau Village? Unlike the wutless media, Bahamas Press finds it of utmost importance for the safety of the police and the public to ascertain if the Carolyn Pinder, who loiters around The Supreme Court, is out on bail for murder. For if she is that Carolyn Pinder–then we are well on our way to "The Twilight Zone" because she claims to be a bail bondsman!
Bahamas Press wonders how a murder suspect can be a bail bondsman and in this particular case, Carolyn Pinder, who two weeks ago was with 'Die' Stubbs' brother by the prison bus at Central—and when he yelled to Raphael Neymour (a suspect on the bus) that he hope he gets bail, so he could kill him when he gets out—there was this Carolyn Pinder chiming in and saying, that she will even give him bail, so he could be killed!
Bahamas Press advises the public to stay tuned!