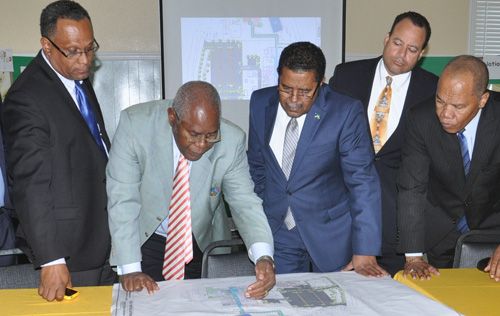 FREEPORT, Grand Bahama — Drawings for the next phase in the upgrade for the Rand Memorial Hospital should be completed by the end of May, announced chairman of the Board of the Public Hospitals Authority, Senator the Hon. Frank Smith during a press conference at the Rand on Monday.
"As you may recall, in 2012 the PHA's investment in the expansion and upgrading of the operating theatres and emergency room at the Rand Memorial Hospital was completed. Today, the patients of the Rand enjoy far more efficient surgical services in state of the art facilities. The project we launch today is an acceleration of the PHA's strategy of phased renovation, enhancement and growth with respect to the infrastructure of all of our institutions and agencies, and like all of the projects the PHA has undertaken, the result is designed to improve the patient experience and outcomes of all those who will access the care delivered by our very dedicated team of men and women."
The chairman continued, "The Public Hospitals Authority takes pride in the fact that it continues to stand at the forefront of excellence and quality service in public healthcare in The Bahamas. We seek to inculcate a culture of excellence throughout our hospitals and agencies that encompasses the professional development of our clinical, allied health and support staff, the physical plant, infrastructure and aesthetic environment of our facilities and ultimately the hospital experience of every single patient in the charge of the Public Hospitals Authority."
Giving an example of this, Senator Smith used the recent commissioning of the Critical Care Block at the Princess Margaret Hospital in Nassau. The facility, he said, is state of the art that has transformed healthcare but also services at the institution.
Construction drawings for the expansion of the Rand are expected to be completed by the end of May, he said, and will go to tender shortly after the drawings are received.
"The people of Grand Bahama and the Northern Bahamas should rest assured that at the end of day, the standard of excellence we employ on all of our renovations and improvements in the PHA will be expressed at the Rand, which will only further enhance the hospital experience at Grand Bahama's only public hospital."
Also present during the press conference were: Dr. Perry Gomez, Minister of Health; the Hon. Dr. Michael Darville, Minister for Grand Bahama; Marco Rolle, Permanent Secretary, Ministry of Health; Dr. Glen Beneby, Chief Medical Officer; Herbert Brown, Managing Director, Public Hospitasl Authority; Lawrence Chisholm, Lawrence Chisholm and Associates and Sharon Williams, Hospital Administrator of Grand Bahama Health Services.