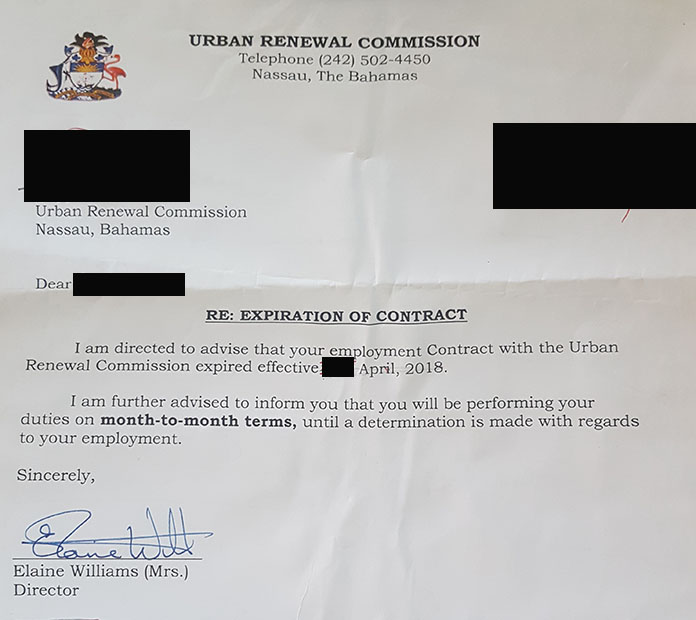 Nassau – Bahamas Press has now been shown a redacted version of a letter on the government's record, which proves a serious incident of overreach and rank abuse within a government department.
Sources have confirmed that Cabinet has contracted, and used for six months now, an employee within the Urban Renewal Commission, a former disgraced high school principal, to intimidate and threaten staff.
In July, the disgraced contract worker, we have learned, sent letters to some seven Government workers in Urban Renewal to tell them that, effective April 2018, they will only have terms of their employment on a month to month basis.
The staff only received these notices in July [some three months later] and just in time for back to school. How heartless!
BP wonders what kind of lawless coldhearted, wicked soul this Elaine Williams is to have given such instructions? Imagine dat! You under contract and you threatening contract workers? And the woman is over the age of retirement!
We also wonder where the Permanent Secretary is on this development as that is the person inside government departments with the CONSTITUTIONAL AUTHORITY to decide on all financial matters within a Ministry and workers!?
BP has long warned the MINNIS government that these serious incidents of skullduggery, intimidation, victimization and corruption are highly monitored by BP and we want yinner to know that such conflicts and exercises of CORRUPTION WILL NOT BE TOLERATED or allowed!
HMMMM! Talking fool bout this the PEOPLE TIME?
We ga report yinner decide!