POLICE ARRESTS SUSPECTS IN ARMED ROBBERY RING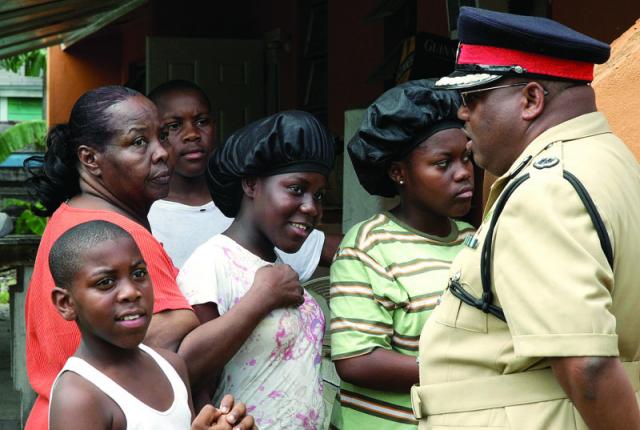 As a result of excellent "text Book" police work, three (3) men are in police custody in connection with the recent spree of armed robberies where persons were being 'bumped" in their vehicles and robbed.
On Wednesday, Detectives from the Central Detective Unit acting on information arrested the three suspects and uncovered a number of items in their possession suspected of being stolen during the armed robberies.
MOBILE DIVISION OFFICERS ON "SATURATION PATROL" MAKE FIREARM, AMMUNITION AND DRUG ARREST
Four (4) men ages 24, 23 and two ages 21 are in police custody after being arrested for possession of an unlicensed firearm, ammunition and dangerous drugs on Wednesday.
According to police reports, around 12:45am officers from the Mobile unit were on "Saturation Patrol" in the yellow Elder Gardens area when they observed the men sitting in a Honda vehicle acting suspiciously. The officers conducted a search of the vehicle and uncovered a handgun and a quantity of ammunition along with a quantity of dangerous drugs. The men were subsequently arrested and taken into police custody.
POLICE CONDUCT FOUR (2) SUCCESSFUL OPERATIONS
In keeping with the Commissioner's Policing Plan 2012 priority one (1) which speaks to Tackling Crime and priority number four (4) which speaks to Enforcing the Rules of the Road, officers from the Central Division, Northeastern Division, South Central Division and Southern Division conducted separate operations in their respective Divisions on Wednesday 19th December 2012.
The objectives of the operations were to: Identify and cite all traffic violators and to Identify and arrest anyone who were in violation of the law.
The operations resulted in the following:
Seventy-two (72) drivers cited for various traffic violations and eighteen (18) persons arrested for various criminal offences and outstanding warrants.
POLICE INVESTIGATES STABBING INCIDENTS
Police are investigating two (2) separate stabbing incidents that occurred on Wednesday, which has left a 32-year-old male and a 17-year-old male and female detained in hospital.
The first incident occurred around 9:15 pm when the two 17-year old victims were in the Sapodilla Boulevard area, when they were attacked by a group of males and stabbed about their body. The victims were assisted to PMH via ambulance where they are detained in stable condition.
Four males, ages 30, 22, 21 and 17 are in custody assisting police with investigations into this matter.
In the second incident, around 9:15pm the 32-year-old male victim was in the area of Faith avenue North when he when was involved in an altercation with a group of men and as a result he was stabbed in the arm and right side of his body.
The victim is detained in hospital in-stable condition.
Investigations continues