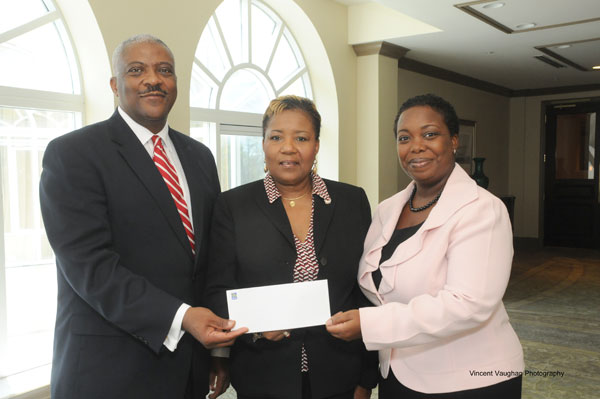 Nassau, BAHAMAS – A highly regarded and loyal corporate donor to The Bahamas Red Cross, RBC Royal Bank has once again demonstrated its extraordinary leadership by committing significant assistance to the Red Cross relief efforts with Hurricane Irene.
The bank today announced a significant cash donation along with a commitment to provide volunteers to assist the Red Cross with the packing of hundreds of boxes of food, water and other supplies, to be shipped to the Family Islands impacted by Hurricane Irene.  These boxes will be shipped weekly to Family Island communities in need of support while repairs are being made to their infrastructure.
"RBC is very proud of the strong partnership that we have built with the Bahamas Red Cross and are pleased to lend assistance during this challenging time for a number of our Family Island communities," said Nathaniel Beneby, President and Country Head, RBC Bahamas and Turks & Caicos Islands.
"We are committed to making a lasting social impact within the Bahamas through responsible giving and are proud of the ongoing efforts of our staff that serve as volunteers for the Red Cross.  We will be coordinating a team to assist with this project," he concluded.
The Director General of the Bahamas Red Cross, Mrs. Caroline Turnquest, expressed her heartfelt thanks to Royal Bank.
"RBC is a long time and valued supporter of the Bahamas Red Cross and we thank them for once again coming forward to assist.  The pledge of not only funds but also much needed volunteer support will make a significant impact on our ability to support those impacted by Hurricane Irene.  Many RBC employees and retirees lend their energy and expertise to our organization each year and I would like to acknowledge their hard work particularly with the annual Red Cross Fair and our finance committee," she said.