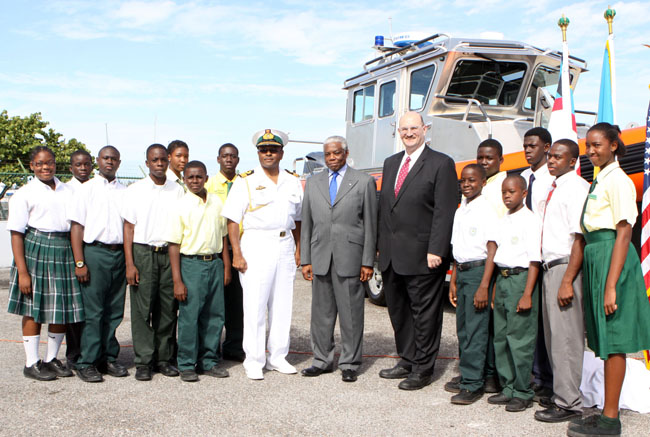 NASSAU, The Bahamas — The Royal Bahamas Defence Force will submit Letters of Offer and Acceptance (LOAs) for approximately $3.7million to the United States Government's Foreign Military Financing (FMF) programme at the United States Embassy, Nassau, for additional equipment and training.
This will include monies to upgrade communications suites, nigh vision goggles, high-risk, at-sea boarding equipment, additional SAFE Boat purchases and a coastal radar site.Minister of National Security, Dr. the Hon. Bernard J. Nottage said the purchases "will help enable the Defence Force to effectively defend and protect the territorial integrity of The Bahamas."
United States Charge de Affaires, Mr. John Dinkelman, said the RBDF has "submitted and executed" LOAs to the FMF for in excess of $1.1million for new equipment and training since August, 2011.
It seems as if the LOAs for the $3.7 is a lock.
"The Bahamian government's eye to the future and prudent use of all available funds will no doubt see the Defence Force continue to receive a significant share of United States' overseas defence funding during these uncertain fiscal times," Mr. Dinkelman said."Despite difficult fiscal times, we intend to continue our investments in this great partnership for we cannot waiver in our resolve to confront and defeat the threats that affect both of our nations," Mr. Dinkelman added.
Mr. Dinkelman's comments came during a hand-over ceremony for a 25ft Full Cabin SAFE Response Boat that took place Thursday at the RBPF's Harbour Patrol Unit, East Bay Street.
Mr. Dinkelman said the occasion highlighted yet another aspect of the ongoing mutual security cooperation shared by the United States and the Government of The Bahamas."The strong bond between our two nations, through the Department of Defence and United States Northern Command and the Bahamas' Ministry of National Security through the Royal Bahamas Defence Force is rooted in the common goal of safety and protection for our citizens. This SAFE Boat, and other similar donations, represent the United States' commitment and dedication to achieve that goal."
The chief U.S. diplomat in The Bahamas applauded the Royal Bahamas Defence Force and its Harbour Patrol Unit for their work in securing The Bahamian maritime domain – particular the waterway including Nassau Harbour.
"Each year, some five million people from the United States visit The Bahamas. The majority of them can be seen moving through Prince George's Wharf. They have come to explore the sights and sounds of Nassau. Virtually unnoticed by these tourists are the dedicated marines of the Royal Bahamas Defence Force's Harbour Patrol Unit, who protect this busy waterway," Mr. Dinkelman said.
"While the tourist population may be oblivious to it, the safety provided by this group of consummate professionals is certainly to their great benefit. To the men and women of the Harbour Patrol Unit, we thank you for your service," Mr. Dinkelman added.