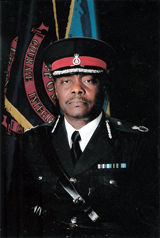 <<< Reginald Feguson, outgoing Commissioner of Police.
Nassau, Bahamas — Bahamas Press is reporting, Reginald Ferguson, will be appointed as Director of the Financial Intelligence Unit [FIU], effective 11th, January 2010. At a staff meeting held last week, members of the RBPF were informed of Commissioner's new appointment, with the COP begging officers not to inform the press.
Ferguson has messed up the RBPF turning it into a politically charged demoralized institution. Our deep-throat tell us, "The day Ferguson retires we will throw the biggest party ever seen in the history of the Force. He has angered officers with his political antics and wutless management style."
We know he knows nothing about nothing at all when it comes to Money Laundering or Financial Crimes.
Ferguson is a street-smart police officer that rose up the ranks in the Force. He will now collect his COP pension upon retiring as well as new salary from the government again, DOUBLE DIPPING! Apparently, no other Bahamian under the age of 60 is qualified for this job.
Bahamas Press learned yesterday current FIU director, Anthony Johnson, has failed to have renewed his contract with the Ingraham government at FIU. Johnson is a veteran banker who was formally employed at The Royal Bank of Canada. He will be removed at the end of December to make way for a 63 year-old 'tired' police officer who will retired as COP on January 4th.