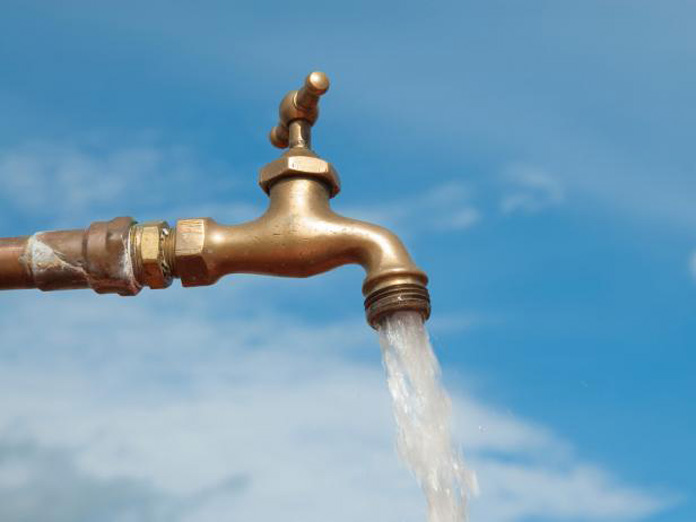 The Water and Sewerage Corporation is happy to report that water production commenced late yesterday evening at its Central Eleuthera Reverse Osmosis Water Plant located at the Naval Base Eleuthera. Customers should now have access to water, however due to the large size of the system, there are some locations that may still have a reduced service level until the entire distribution system is stabilised following the prolonged outage.
The challenges effectively began with a catastrophic failure of the main supply well pump for the plant Friday night (29-Apr). This almost 300 feet deep well provides the seawater feed to the desalination plant which then purifies it into fresh water which WSC supplies to the communities from Gregory Town to Savannah Sound. The pump was extracted, and when it could not be repaired, preparations were made to install the on-site spare. During installation of the spare on Saturday (30-Apr), the lifting mechanism failed resulting in the new pump and pipework being lodged nearly 200 feet in the well.
Equipment and expertise had to be flown in from New Providence and the pump was successfully retrieved late Monday evening (02-May). The pump was then successfully installed and the plant operation was restarted late Tuesday evening 03-May.
Obviously WSC is extremely apologetic for the length of time it took to resolve this matter and for the severe impact it had on its customers. It is ensuring that several actions are taken to reduce the probability, and to mitigate the impact of such failures in the future. These actions include:
– Ensuring there is a second supply well in operation at all times
Completing tank refurbishment works to ensure there is adequate storage capacity for this and other events
– Enhancing the capacity of the plant to accelerate recovery and to have some redundancy
Creating a database of customers that have cisterns so that water can be tankered when extended failures occur
– While it is impossible to eradicate all failures, better planning can minimize and mitigate the inconvenience.
Besides these specific actions, WSC has also initiated both medium and long term plans for improving water quality, supply and storage not only in central, but on the entire island of Eleuthera. This includes the recently announced $41 Mn. project partially funded by the Caribbean Development Bank, and the Bahamas Government, and other initiatives such as desalinated water supply for the north, and increased storage and production capacity
Please follow our website www.wsc.com.bs, or our Facebook Page regarding our activities and initiatives throughout The Bahamas. Customers are also invited to email their concerns and/or feedback to help@wsc.com.bs or call our toll free number at (242) 300 0150.