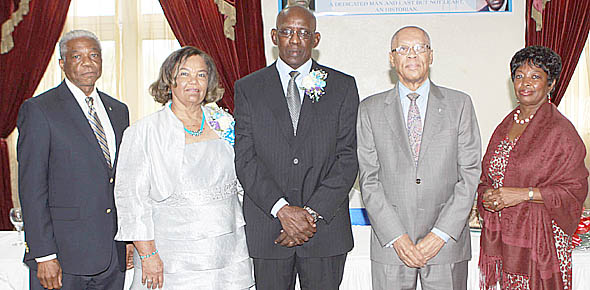 By Matt Maura
Bahamas Information Services
NASSAU, The Bahamas — Minister of National Security, Dr. the Hon. Bernard J. Nottage lauded former Parliamentary Commissioner, Mr. Errol Bethel, for 50 years of National Service during a special luncheon held in Mr. Bethel's honour.
Mr. Bethel retired from the Public Service in October, 2012. Governor-General, His Excellency, Sir Arthur Foulkes, GCMG, said Mr. Bethel "exemplified a cadre of public officers who have served their country with distinction and selflessness."
Dr. Nottage said The Bahamas' global "reputation" as a country that conducts efficient, effective and free and fair parliamentary elections, is a direct result of Mr. Bethel's leadership in overseeing General Elections.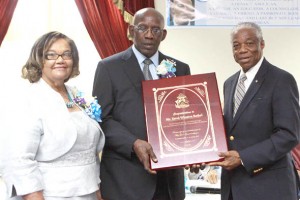 "Not many Bahamians have had the good fortune of celebrating 50 years of service in any one institution," Dr. Nottage said. "Fifty years is a very long time to be working in any sphere or environment. It requires skills, talents, perseverance, resilience, dedication and commitment.
"Mr. Bethel has manifested all of the above-mentioned qualities through his long and distinguished career in the Public Service," Dr. Nottage added.
Mr. Bethel began his career in the Public Service in 1962 when he was appointed a Classroom Monitor/Teacher at the All-Age School in Mangrove Cay, Andros. He taught in a number of public schools throughout the Commonwealth of The Bahamas between the years 1962-1967 before being promoted to Principal in 1967.
Mr. Bethel served as Principal of the South Andros High School, N.G.M. Major High School (Long Island), Abaco Central High School, H.O. Nash Secondary School, A.F. Adderley and R.M. Bailey High School from 1967 to 1991.
In 1992, he was appointed Chief Passport Officer, a position he held for two years. Mr. Bethel was appointed Acting Parliamentary Commissioner from August to October 1993 before returning to the education system as Deputy Permanent Secretary in 1994. He was appointed Parliamentary Commissioner in 1995, a position he held for 17 years.
"I have known Mr. Bethel for well over 25 years and have always respected him as a good teacher and educator in the public school system," Dr. Nottage said. "Over the years, the Government has sought his advice as Parliamentary Commissioner on electoral matters particularly with regards to General Elections, School Board Elections and Family Island Local Government Elections.
"The Bahamas has been commended internationally for the effective and efficient conduct of General Elections (free and fair Parliamentary Elections) by international electoral organisations and Mr. Bethel's leadership in overseeing General Elections has played a major part in this achievement," Dr. Nottage added.
Dr. Nottage encouraged Mr. Bethel to "continue to do good" in service to his country.
"When good men do nothing, evil triumphs," Dr. Nottage said. "With your wealth of experience in the educational and electoral realms, I hope that you will find time to document some of your experiences for generations of Bahamians yet unborn."
During his tenure as Parliamentary Commissioner, Mr. Bethel has been the country's representative at a number of electoral conferences, workshops and seminars globally. He has also served as an Observer at elections in Haiti, Bangladesh, Zimbabwe, Guyana and Trinidad and Tobago.
Mr. Bethel also oversaw the introduction of Local Government and School Board Elections; played a major role in the upcoming National Referendum and was responsible for hosting international observers during a number of Bahamian General Elections.
His Excellency, Sir Arthur Foulkes, called Mr. Bethel's contributions to The Bahamas "immense."
"Errol Bethel has impacted many communities in numerous Family islands around The Bahamas," His Excellency said. "On behalf of a grateful nation, I sincerely thank Mr. Bethel for the immense contributions made during his Public Service career."