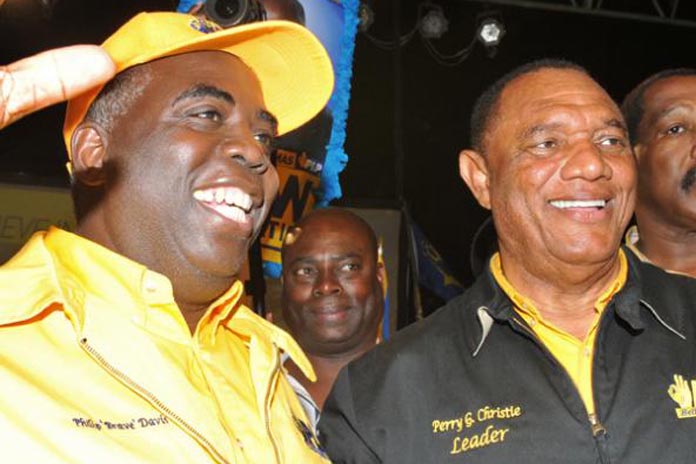 Statement by Hon. Philip Brave Davis
In the final days of this election, the FNM has shown how little they trust their current Leader, Hubert Minnis, turning instead to their former Leader, Hubert Ingraham, to make their party's closing argument.
Ingraham, who sat on the sidelines during years of his party's turmoil and in-fighting, has appeared on FNM rally stages in recent days, hurling one accusation after another against the party that sent him home five years ago.
If he believed in anything he was saying, he would have registered concerns through legal and proper channels, of course. But these last-minute attacks are only lies and distortions, intended to distract Bahamians from the weakness of Minnis and the dysfunction of the current FNM.
Hubert Minnis is the weakest candidate ever put forth by a major political party in this country. Because he cannot lead, his party continues to this day beset by internal turmoil and deep divisions.
Just months ago, the FNM leader was stripped of his post as opposition leader in a vote of no confidence by his parliamentary colleagues.
The FNM is unstable, their leader is unfit to govern, and they represent too risky a choice for The Bahamas.
Bahamians are rightly worried that Minnis would lack the strength to stand up to special interests at home, or represent The Bahamas well abroad.
And Bahamians are embarrassed by the boorish attempts by Hubert Ingraham to distract from the obvious weakness and disorder of the FNM.

INGRAHAM THREATENS GOVERNMENT WORKERS
Ingraham appeared to suggest that should the FNM win, they will fire the Head of State, the Governor General, and civil servants out of political pettiness and spite, an extraordinary and dangerous threat.
The PLP government for its part, and in stark contrast to the FNM, has not only protected our national institution but has processed more than half of the 3,000 or so contract workers in the public service, placing them on the permanent and pensionable payroll.
The policy of the PLP is to protect and create jobs while the policy of the FNM is to fire civil servants out of petty political spite.
THIS MAKES THE CHOICE EVEN CLEARER FOR BAHAMIANS ON 10TH MAY!
Only the PLP is handing out our Action Plan door to door and in communities; we are the only party that respects Bahamians enough to put forward in detail our plans for the next steps in moving our country forward.
The FNM hopes Ingraham's attacks will distract Bahamians from their lack of a plan, their weak leader, their divided party, and their former Leader's threats to government workers. We think Bahamians are too smart to fall for their last-minute tricks, and instead will choose the only party, the PLP, with a real plan for Bahamians.
—-
END
STATEMENT FROM PHILIP BRAVE DAVIS
DEPUTY PRIME MINISTER
MINISTER OF WORKS AND URBAN DEVELOPMENT
FOR IMMEDIATE RELEASE
8TH MAY 2017