Campaign goes in meltdown as Loretta supporter gets chased off stage at Convention…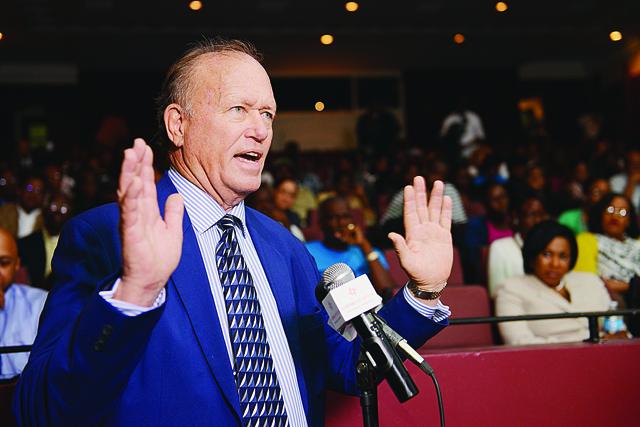 Lightbourn don't want no more black babies in the country! WELL WAIT!
Nassau, Bahamas – A complete meltdown of the Butler and Sands team at the FNM Convention came last night when first, Richard Lightbourn, called for women who have two children will have their tubes tied when the FNM returns to power.
Lightbourn said an FNM Administration would, "…Tie the tubes of unwed mothers who give birth to more than two children."
Lightbourn, who is supporting Loretta Butler for the top post as leader, is now on a path to destroy the FNM as a party. The group was being advised and coached by Hubert Ingraham.
One Observer said, "Did he just say how he want less black children born in the Bahamas?"
The Montaqu MP's comments shocked convention-goers and left the national television and radio audience aghast.
His comments also quickly forced FNM Chairman Sidney Collie to quickly move in damage mode issue the following statement: "Mr. Lightbourn's comments tonight were personal and do not reflect the position of the FNM. The FNM does not believe in restricting anyone's rights including women's reproductive rights. The FNM has and will continue to fight for all Bahamians, regardless of gender."
Following Lightbourn's speech Party Leader Dr. Hubert Minnis entered the Convention Hall with a rapturous applause with scores of supporters all around him with the song "A Soilder's Heart" played by the DJ. Dr. Minnis is expected to win his re-election to the leadership of the Party today by an 82% majority of the delegates according to BBB Analytics.