Convention to confirm Dr. Hubert Minnis as Butler and Sands drops out!…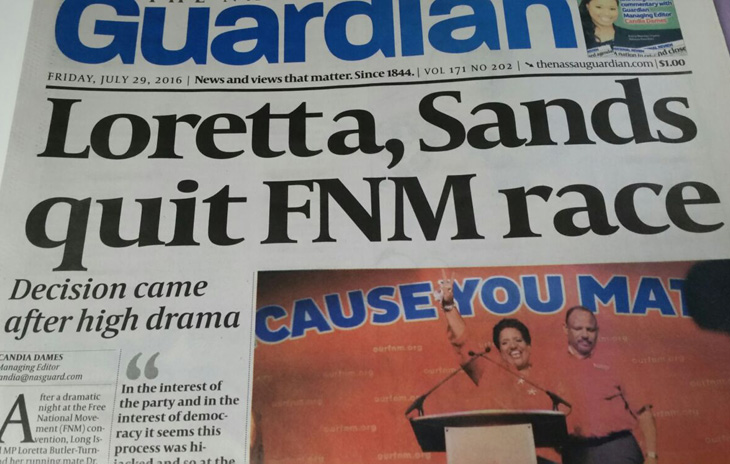 Nassau, Bahamas – After a wicked and bold attack on the leaders of the Free National Movement last night, only Loretta Butler-Turner and Duane Sands were left standing at the convention podium as the hall erupted with shouts in support of Dr. Hubert Minnis.
Loretta, who is challenging the Killarney MP for the leadership of the organization, was booed and shouted off the convention stage after overstaying her time while addressing the delegates. We have since learned around 2am this morning that the pair had decided to pack up their campaign abort the race. BP predicted this more than a week ago when Duane Sands responded that the "…devil was a liar!"
Butler-Turner extended an invitation to party leaders to join her on the stage but it was rejected as not one moved – except Duane Sands.
Butler-Turner's 'vicked' crew was being advised by former Party Leader Rt. Hon. Hubert Ingraham. Their smear and attack campaign on the party and more pointedly its Leader Dr. Minnis began in 2012 with a number of newspaper editorials and columns. The attacks hardened Dr. Minnis' support within the party and around the country. In Grand Bahama alone more than 90 percent of the delegates support Minnis.
Our internal data confirmed that when approaching delegates Hubert Ingraham learned he could not get any more than 35 delegates and Loretta no more than 25. In the end out of 400 plus Dr. Minnis would have collected the vast majority!
We know though that an 82 percent majority of the delegates confirmed they would stand with Dr. Minnis and reject anyone who challenges the Killarney MP who paid much of the organization's debts following the crushing 2012 general election.
As Loretta – in shame – saw no response from the leadership and with the crowd loudly shouting, "ROCK WIT DOC! ROCK WIT DOC! ROCK WIT DOC!", she quickly left the stage with Sands to go eat a whole chicken.
We report yinner decide!