Moncur could have his JP License Suspended after being accused of BREAKING THE LAW! Moncur Tops Crime News…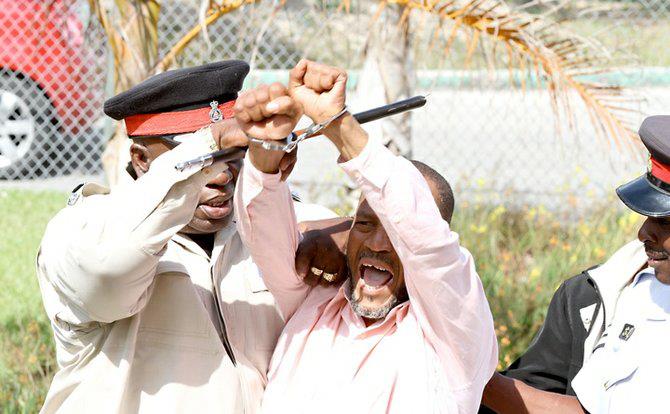 If they can arrest Rodney Moncur, why ya think they would not do the same to Algernon Cargill and Vincent Vanderpool Wallace where real money is involved? Justice is an invention of the devil!
UPDATE AT FOX HILL PRISON 10PM — Nassau, Bahamas — Sources from deep within Her Majesty's Prison tonight report that Rodney "THE HAMMER" Moncur on remand would have been subjected to a full body cavity search.

And that since there may be no space in the dormitory for remanded persons, "The Hammer" could possibly share a cell in Maximum Security with Big Dick Willy from Okra Hill, a Life-timer who is said to be most famous for THE BLANKET ROLL.
BREAKING 4:01PM – Rodney Moncur currently locked away in the jailhouse on Nassau Street. His shoe lace and belt have been taken from him as he makes loud utterances in a suicidal state while locked away. He was granted bail in the amount of $7,500 following his hearing today, however, repeated calls for help have gone unanswered. Calls to members of the Christian Council have gone unanswered. Calls to leaders in the DNA have fallen on deaf ears. Rodney Moncur is now awaiting the 5PM bus to Fox Hill Prison. The bus is in position for transport. HE DID IT TO HIMSELF!  Moncur will greet Randy Fraser today in the big dollhouse.
MONCUR CHARGED: Human Rights Activist Rodney Moncur cried out "freedom" as he was led to court this morning to be charged with committing a 'grossly indecent act'. As he was entering the court Mr Moncur cried out to the crowd that had gathered on Nassau Street, "Mark my words, April 4th they are going to kill me."
BP has learned this is not the first time Moncur has been dragged before the courts. The JP was recently in court for failing to pay a debt to Royal Bank.