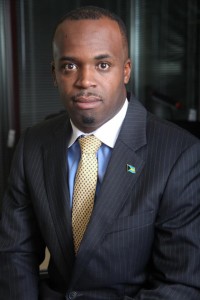 By Arthia Nixon, Press Secretary
Bahamas Consulate General Atlanta
(Atlanta, Georgia) With the city of Atlanta repeatedly making the list as one of the top ten North American cities for young professionals/CEO's in Forbes and BizJournal, the appointment of Randy C. Rolle as Consul General to the Bahamas Consulate of Atlanta speaks to the area's abundance of youth-led companies and organizations.
Since officially taking office in July 2013, Rolle has already been busy representing The Commonwealth of The Bahamas in different forums. He also has been pursuing opportunities in several fields such as investment, education, trade and economy, entertainment and films, athletics and more.
"The focus is not just Atlanta even though our office is based there," explained Rolle at a recent briefing. "Our region includes Alabama, Arkansas, Georgia, Kansas, Kentucky, Missouri, North Carolina, South Carolina, Oklahoma and Tennessee. Based on findings of a recent focus group, we are learning that quite a few Bahamians living in our jurisdiction do not know we represent them or understand the purpose of having a consulate office.
Many assume it is simply for passports or for students and it is much more than that. We've already begun implementing ways to connect the diaspora to our office so that we can mutually be abreast of what is going on at home and abroad as it pertains to our citizens."
Prior to this post, Rolle, received his professional education from Bethune Cookman College and Johnson & Whales University and worked in the hospitality industry.
As a 1998 recipient of the Caribbean Hotel Association scholarship, he was afforded opportunities to travel to Europe and North America as a Bahamian representative. He also was a stellar sales executive at Atlantis' Harborside Resort, rounding off the highest sales volumes for 2003, coinciding with him heading the special operations department he implemented. In 2008, he received a Bravo Award from Starbucks International for playing a vital role in the market opening of its stores in The Bahamas.
Just before his appointment, Rolle was certified as a project manager and worked with The Ministry of Tourism for The Commonwealth of The Bahamas.
Rolle is a member of Kappa Alpha Psi fraternity Inc., Masters of Excellence Toastmasters Club 933001, and a former American football standout with the Commonwealth American Football League's Nassau Sunburners.
He is the son of former professional baseball player Randy Rolle Sr., of Bimini and Mrs. Karen Johnson from the Berry Islands, and is married with a young son.
For more information visit www.bahconga.com