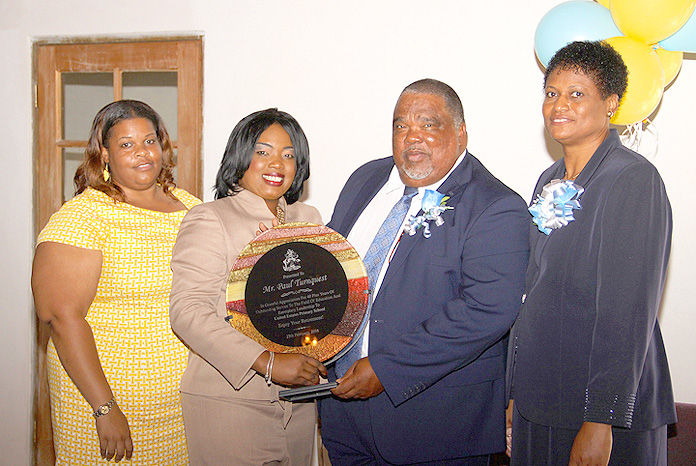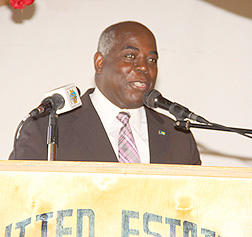 SAN SALVADOR, Bahamas – The community of San Salvador celebrated the exemplary service and dedication of Paul Turnquest, former principal of United Estates Primary School, for more than 40 years to the field of education Thursday, February 25.
Students and teachers of United Estates Primary School and San Salvador High School recognized Mr. Turnquest in tributes, songs, poetry and dance during a retirement ceremony at Fellowship in Christ Kingdom Ministries, Cockburn Town, San Salvador. His family, well-wishers, representatives of the clergy, senior Government and Local Government officials were also in attendance.
Mr. Turnquest began his teaching career at San Salvador Teacher's College at the age of 16. In addition to San Salvador he served in Long Island and Exuma for 7 years.
In his remarks, the Hon. Philip Davis, Deputy Prime Minister and Minister of Works and Urban Development, thanked Mr. Turnquest for his commitment to public service, to the teaching profession and for touching and moulding the lives of his students.
He described Mr. Turnquest as a "remarkable" leader, mentor, role model, community builder and friend who has been faithful to God, church, family and his students.
He said, "Exuma remembers and reveres your selfless service, particularly the Roker's Point, Forest and Moss Town Communities. Through sports, basketball in particular, you have the distinction of establishing Exuma as a part of the National Basketball Federation. You have the distinction of developing the sport of softball there as well. You were an excellent model for Exuma – yourself travelling the world with the National Softball Team, representing The Bahamas and securing two international gold and silver medals. "
Mr. Davis said Mr. Turnquest's service was a creativity that rose above the mundane while serving man and country. "It has been a sacrifice of time, talent and treasure that was critical to nation-building."
"San Salvador gained a gifted son with Paul's adoption. It has been an honour to watch and support your Men's Basketball Team as they moved to and excelled in Division A of the National Basketball League. It has also been good to see the Junior and Senior Boys win the National Championships for 3 consecutive years. All of these achievements were secured under Paul's leadership as coach."
Fr. Rodney Burrows highlighted Mr. Turnquest's carpentry skills and referred to him as a "jack of all trades," a no-nonsense man who is capable of getting the job done.
District Superintendent Garth King, on behalf of the Ministry of Education, Science and Technology, said Mr. Turnquest has served with meritorious distinction and can be counted as being among the last of a "dying breed."
"We cannot deny ourselves the notion that after a lifetime of service a Recognition Service such as today's is indeed a fitting tribute to Mr. Turnquest.
"Thousands of young lives who have been touched by his mentorship are many and I know that there are hundreds to whom he is a father-figure having gone that extra mile to shepherd them with that special bond that links teachers and some students" he said.
Administrator Theophilus Cox described Mr. Turnquest as a man of action and substance, a nation builder who has served The Bahamas well.