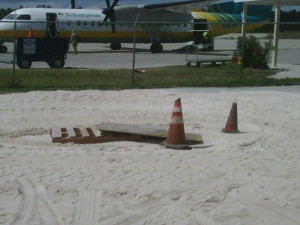 BP IS ISSUING A TRAVEL WARNING TO ALL VISITORS AND RESIDENTS TO ABACO. THE MID 80'S WAS A TIME ARTICLED IN THE ANNALS OF HISTORY AS ABACO'S PROUDEST MOMENT'S VIABLE FARMING, THE BOAT BUILDING INDUSTRY WAS BOOMING AND THE SOUNDS OF THE SENSATION-ABLE FUNK CONNECTIONS WAS THE PHENOM OF THAT ERA.
TWO AND A HALF DECADES LATER WE REGRET TO INFORM OUR READERS THAT FUNKY SOUL HAS LEFT ABACO. THE SPIRIT THAT BROUGHT THIS INDUSTRIOUS UNIQUE GROUP OF ISLANDERS TOGETHER HAS BEEN BROKEN BY THE HANDS OF OPPRESSION FROM THERE VERY OWN 'VICKED' LEADER.
ONE MAY ASK IF ABACO ISN'T FUNKY ANYMORE, WHAT IS IT ? ONLY ONE MEDIA OUTLET WILL GIVE YOU THE HARD CORE TRUTH, FEARLESS OF INTIMIDATION. IT IS OUR SAD DUTY TO INFORM THE COUNTRY THAT ABACO HAS GONE ********!!!!
THE PHOTOGRAPHS YOU ARE VIEWING DEPICTS A SAND STORM OF S*** AT THE MARSH HARBOUR INTERNATIONAL AIRPORT. THERE IS AN ON GOING SEPTIC OVERFLOW OCCURRING AT THE TERMINAL AND INGRAHAM AND HIS GOONS BEST WAY OF RESOLVING THE ISSUE IS DOING WHAT THEY DO BEST; COVER IT UP.
BP SPOKE TO ONE OF THE TAXI DRIVERS AT THE AIRPORT AND GIVES HER ACCOUNT OF THE STORY. "THEY KNOW THIS PROBLEM WAS IN EXISTENCE LONG TIME AND DIDN'T DEAL WITH IT.  I SUPPORT HUBERT FOR TRUE, BUT I HEAR HE COMING TO ABACO TODAY AND I HOPE HE WALK HIS RIGHT IN THIS DUNG AND SLIP DOWN."
TEMPERS ARE RUNNING HIGH IN ABACO AS THE UNACCEPTABLE LEVEL OF POOR MANAGEMENT OF OUR PORTS OF ENTRY IS NEGATIVELY IMPACTING THEIR MAIN INDUSTRY.
BP SAYS, TELL PAPA BUILD HIS LAST HIGHWAY AND RIDE INTO THE SUN.
HIT DA ROAD JACK AND DON'T YOU COME BACK ANY MORE.