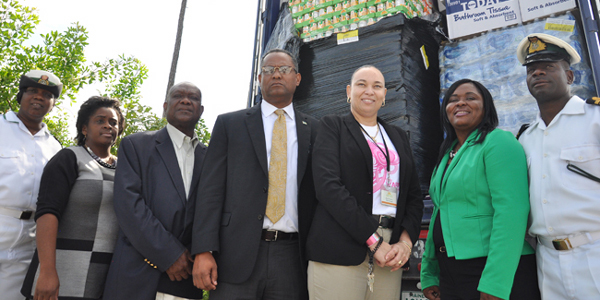 FREEPORT, Grand Bahama – Sawyer's Fresh Market, one of the leading food chains on Grand Bahama, came to the aid of Hurricane victims in the South and Central Bahamas on Friday morning.
The popular supermarket donated a forty-foot container to the National Emergency Management Agency (NEMA) loaded with food supplies. The goods were accepted by the Minister for Grand Bahama the Hon. Dr. Michael Darville.
In commending Sawyer's for the generous gift, the Minister said that he was especially pleased to accept the donation, and also used the opportunity to thank corporate Grand Bahama for the efforts thus far.
He said that Grand Bahama has had first-hand experiences with hurricanes having several years ago seen the devastation caused by Jeanne and Francis.
He assured the owners of Sawyer's that the items will be delivered to those affected and that the container will be taken to NEMA headquarters where the items will be packaged and shipped out in the shortest possible time.
Dr. Darville confirmed that they already have a large amount of food supplies, clothing and building materials that have been donated by locals and ready for shipment as well.
"So on behalf The Bahamas Government and NEMA we accept this gift of love from this very established company," he stated, adding that as they move throughout the island they find that people are just giving which is very commendable.