It has been yet another bloody weekend in the capital…Third murder in Southern Shores…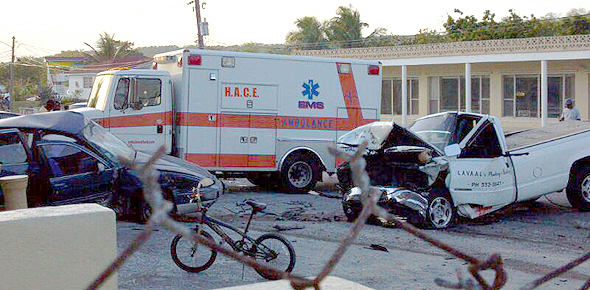 Eleuthera records another fatality Sunday evening
Nassau, Bahamas – Bahamas Press is calling on all right-thinking, law-abiding Christians to begin a chain of prayer and fasting for the Nation as we go through this phase of murder crisis hitting our nation.
Within just hours apart Bahamas Press is reporting the country's second and third murder incidents happening right now in the Nassau Village area and in the community of Southern Shores where the victim was shot 9 times by his attacker. Further details on both incidents are indeed sketchy, however, we are racing to the scene for more information.
Meanwhile police are requesting the public's help in locating three (3) males responsible for a shooting incident that has left a 29-year-old man dead.
The victim in this latest murder is Lavardo Miller AKA "Shorts". He was said to be a senior member of the notorious "Fire and Theft" gang on New Providence, whose leader was gunned down last week.
The incident reportedly occurred shortly before 6:00 pm on Sunday.
Preliminary reports indicate that the deceased was in his driveway when he was approached and subsequently shot multiple times, by three (3) males, the occupants of a blue Honda Inspire.
They made good their escape in an unknown direction.
Speed ends the life of another Eleuthera resident…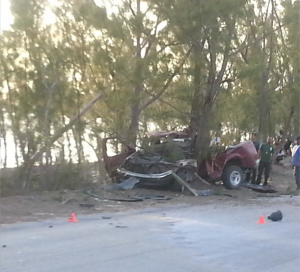 Eleuthera, Bah – Another bad motor accident on Eleuthera on Friday has left one man dead and another nursing wounds.
Sources on the ground on the island tell us the crash occurred Friday evening near Sunset Inn at the entrance of Governor's Harbour.
We are told a man the male passenger Orman (spelling) Dorecley died after being crushed beyond identity.
Sources tell us speed was a factor and continues to be a serious problem on family islands where drivers drive like a bat out of hell.
We are calling for all drivers across the country to adhere to the speed limits. Slow down and live long.
Police on Eleuthera investigate a paramotor accident…
Eleuthera, Bah – BP is reporting out of the island of Eleuthera tonight where a 49-year-old male of Spanish Wells is in hospital after his PARAMOTOR craft crashed at Harbour Island on Sunday.
Preliminary reports indicate that around 10:30 am the victim was piloting his PARAMOTOR craft on the eastern end of the island, Harbour Island, when the incident occurred.
The victim, a native of Germany was taken to the Harbour Island Community Clinic and later airlifted to the capital where he is detained in stable condition.