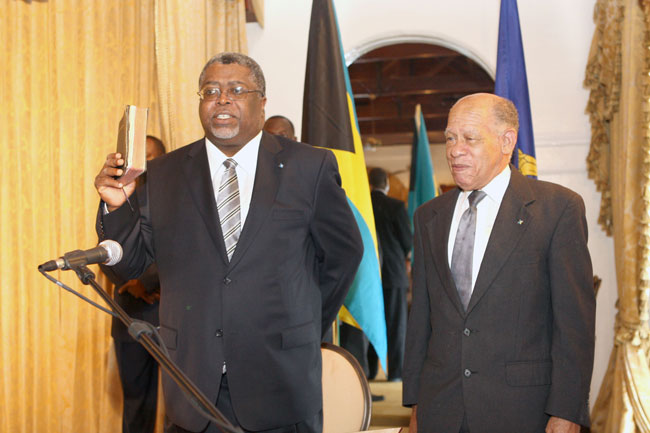 <<< Barnett (left) is administered the oath of office as the next Chief Justice of the Bahamas by Governor-General His Excellency Arthur D Hanna.
Nassau, Bahamas – Former Attorney General and Minister of Legal Affairs Michael Barnett was sworn in as Chief Justice during ceremony at Government House, August 24.
He succeeds Sir Burton Hall who is to take up an appointment as a Permanent Judge on the International Criminal Tribunal for the former Yugoslavia.
The Cabinet Office has advised that the Hon. Brent Symonette, Deputy Prime Minister and Minister of Foreign Affairs, is appointed Attorney General and Minister of Legal Affairs with effect from 22 August, 2009.
Mr. Symonette, who previously served as Attorney General in an earlier Free National Movement Government, will serve in this position until a new Attorney General is appointed.
Mr. Barnett has served as Attorney General since July, 2008.  Before that appointment he was a senior partner at the law firm of Graham Thompson and Co.
A former President of the Bahamas Bar Association and Chairman of the Bar Council, Mr. Barnett was called to the English and Bahamas Bars in 1978.
He has served in many professional and public service capacities including: Acting Stipendiary and Circuit Magistrate, Acting Justice of the Supreme Court, Chairman of the Industrial Relations Board, Member of the Financial Services Advisory Committee and Chairman of the Catholic Board of Education.
Mr. Barnett was educated at St. Augustine's College here in Nassau and at Georgetown University, Washington D.C., where he obtained a
Bachelor of Arts degree in Economics.  He studied law at Lincoln's Inn, London.
A Roman Catholic, Mr. Barnett is married to the former Camille Liverpool, President of the AIDS Foundation, and the couple has two daughters, Michela and Viola.