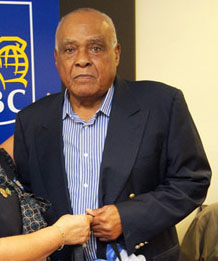 Breaking News coming into Bahamas Press confirms the passing of Sir Albert Miller. In tribute to him we publish this editorial of the Freeport News.
May he rest in peace.
Editorial
Saluting Sir Albert
Many Bahamians evolved out of lowly early environments to become giant contributors to the crafting of this nation. The initial years for some in the less affluent communities of the far-flung Islands of The Bahamas were so humble, their dreams were modest at best.
For instance, Albert Miller as a little boy in Long Island 80 years ago could realistically dream of being a policeman, just that. He and a lot of other island lads would have wanted to be in a police uniform.
To be the chief of police, the commissioner, would not have been a realistic aspiration for a colored island boy eight decades ago. Albert Miller however, applied himself and rose to heights unimaginable by him as a youngster.
He became a policeman and will forever be hailed as one of the best of the great law enforcement officers in the history of this country. He rose through the ranks in a system unfavorable to Blacks and reached the level of Deputy Commissioner of Police.
Some who can recall Miller as a top policeman in the country acknowledge that it would have been appropriate for him to become the first Bahamian Commissioner of Police. That's how good and how much respected he was.
Indeed, when Miller's career on the Royal Bahamas Police Force is examined it becomes clear why he traveled to such heights on his next career journey, connected to Grand Bahama.
The Grand Bahama journey for Miller started out in earnest with the vice president's position at Bahamas Amusements Limited. He became president of Bahamas Amusements of course, and a principal figure in many other entities for the next 40 years.
Ironically, this year marks the 40th year since he became president of Bahamas Amusements limited, so it's a big milestone for the entrepreneur supreme. His name has been listed on countless boards. He has been influential in many business projects. Yes, he's had his finger in a whole lot of business concerns in Grand Bahama.
This reality has not gone down very well with some. The view held strongly in certain circles was that Albert Miller being involved "in everything" was not good.
The bottom line factor is however, that businesses, once touched by Albert Miller, became successful. Yes, Albert Miller became synonymous with that which was successful in Grand Bahama. His long relationship with the Grand Bahama Port Authority is testimony to his significant presence in Grand Bahama.
As president of the GBPA for almost 30 years and subsequently as co-chairman, he blazed a trail for Bahamians. He was that indigenous Bahamian element standing shoulder to shoulder with Edward St. George and Sir Jack Hayward at the top tier of the Grand Bahama Port Authority, the mighty engine that has been the driving force for the island all these many years.
The years continue to mount for Sir Albert. Indeed, his steps are slower, but the great shadow he cast over Grand Bahama through his ingenuity as a businessman and his astuteness, continues to expand.
It's a growing legacy.
We understand, that these days, Sir Albert does not always feel peachy. We wish him well and salute him for the iconic status he achieved.
The little boy from long Island became a stalwart of the highest order.
Published Thursday, October 16, 2014