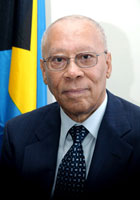 In an official statement issued by the Cabinet office yesterday, Governor-General of the Commonwealth of The Bahamas Sir Arthur Foulkes was admitted to Doctors Hospital this afternoon after feeling unwell during today's funeral service for Canon Neil Roach.
Sir Arthur was examined and underwent a series of diagnostic tests.
He is now resting comfortably and is likely to be discharged after a brief period of observation.
The Governor-General is in good spirits and is looking forward to returning home to enjoy the Christmas holiday.