Sissy Love Triangle turns deadly 5am this morning! BP now has name of murdered victim!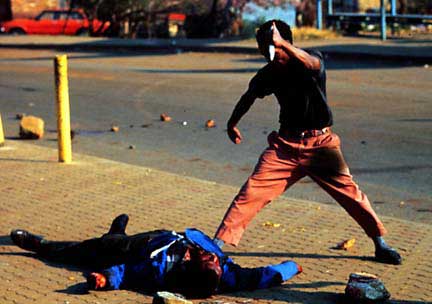 Nassau, Bahamas –– A stabbing incident outside an apartment on Jaxfish Drive off Carmichael Road has left one male dead and another injured in what sources are describing as a sissy brawl between two males.
The incident, according to police, occurred shortly after 5am this morning.
Police were called to the scene where they discovered one male stabbed to death with multiple wounds about the body and another, who attempted to flee the scene of the crime,  crashed in a vehicle which was full a blood.
Now sources close to the investigation tell us, the incident occurred after the gay lover of the victim followed him to his apartment in the Carmichael area and discovered he was stripping down the panties of another male. According to the reports, when the boyfriend saw what we happening, he confronted the two who, by this time, were already doing the raw 'vickedness'!

A fight began, which resulted in the victim being stabbed multiple times by his sissy lover while the other male looked on.
As the victim laid bloodied on the floor gasping for air, the victim fled in his vehicle but crashed later.
Police have since captured the enraged boyfriend and as they say – he will be doing the Nassau Street Shuffle sometime this week.
What a way to die – fighting over Man! By damn! Nassau GONE!
Meanwhile Bahamas Press is confirming the pair murdered in that shooting on Wulff Road to be 42 –year-old Ernest Cartwight and his co-worker Sean Daxon. BP has learnt the two ran a gambling den in the area called the Tip and Top bar opposite Columbus Primary.
It is reported that after collected a load of cash from the night of gamble the two attempted to leave the bar but was confronted by a shooter who opened fire on them both; striking Cartwright to the upper body killing him instantly and shooting Daxon who attempted to flee. He died later in hospital.
BP reminds all citizens that gambling is illegal in the Bahamas and if you decide to carry thousands of dollars in the night home ya know what ga happen. The government nor the police can protect you from dumbness!
We report yinner decide!
BREAKING UPDATE>>>
BREAKING NEWS >>> Tomorrow morning at 10AM the media and BP will descend in the Supreme Courtroom of the Chief Justice Sir Michael Barnett where he will begin to hear opening arguments on the situation of the St. Johns College Graduation affair…THIS WILL BE A LANDMARK DECISION….