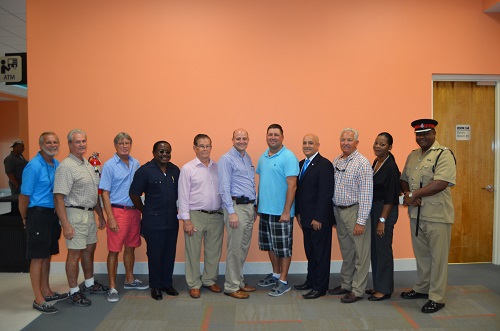 HOPE TOWN, Abaco — Mr. Ricardo Treco, Bahamas Consul General to Miami, and the Honourable Troy A. McDonald, Mayor of Stuart, Florida, accompanied by his wife Portia Scott, paid an official visit to Hope Town, Abaco, for the signing of a sister city agreement between Hope Town and Stuart, at a special session of the Hope Town District Council on Saturday, July 26, 2014.
Upon arriving in Abaco, the party was welcomed at Marsh Harbour International Airport by Mr. Jeremy T. Sweeting, Chief Councillor; Mr. Preston Cunningham, Senior Island Administrator; Mr. Harold Malone, Deputy Chief Councillor for the Hope Town District Council; Donald Cash, Councillor, Hope Town District Council; Assistant Superintendent of Police Noel Curry, Royal Bahamas Police Force; Mr. Edison Key, Member of Parliament for Central & South Abaco; Mr .Renardo Curry, Member of Parliament for North Abaco and Parliamentary Secretary in the Office of the Prime Minister; and Senator Gary Sawyer.
A special tour of the island was organized by The District Council,  with visits to the Wyannie Malone Historical Museum, the waste management site, and the White Sound dune road site. Among other points of interest was the Man–O-War Cay Heritage Museum that features the culture and heritage of early inhabitants of Abaco.
Noting that the major highlight of the official visit to Abaco was the signing of the agreement of the Sister City Relationship between Hope Town, Abaco and Stuart, Florida, Consul General Treco said this activity speaks volumes for the great foreign relations of The Bahamas and emphasized the ways in which it will enhance the economic development and infrastructure of Abaco through great partnership and citizen to citizen diplomacy.
The Sister City/People to People program was inaugurated in 1956 by President of the United States, Dwight D. Eisenhower, in an effort to establish and promote greater friendship and understanding between the people of the United States and other nations through the medium of direct personal contact. Many countries have endorsed this program and have joined numerous cities of the United States in adopting and implementing programs through cultural exchange, humanitarian assistance, youth and educational programs, and economic and sustainable development.