Bahamian pilots inaugural flight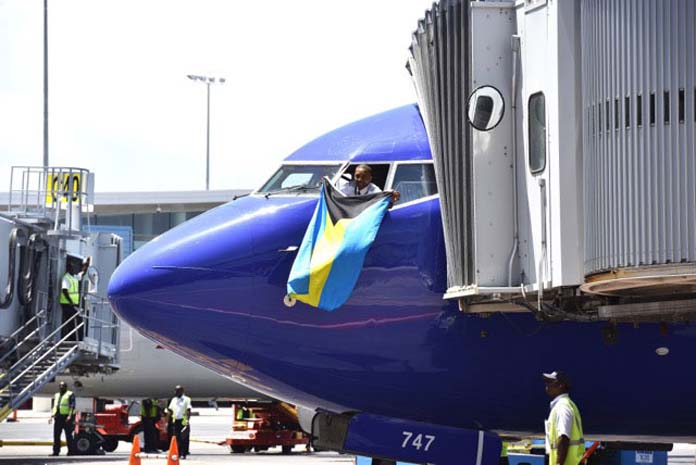 NASSAU, Bahamas – Southwest Airlines has connected The Bahamas to additional markets throughout the United States with the introduction of its new daily nonstop service between Fort Lauderdale and Nassau.
On August 7, 2016, Bahamian pilot Sean Smith proudly flew the 143-seat Boeing 737 into Lynden Pindling International Airport, officially declaring the route active.
The new route is part of Southwest's plan to not only boost traffic from Florida, but also to connect The Bahamas with the vast Southwest network. The popular low cost carrier enplaned approximately 145 million customers during 2015, an average of more than 12 million passengers per month.
Steve Goldberg, Southwest's Vice President of Ground Operations, said the new route opens The Bahamas up to several new markets.
"People all over the Southwest network will be able to connect in Ft Lauderdale for a quick flight over to The Bahamas. We are really excited about that," Goldberg said.
We're building a five-gate international terminal [at Fort Lauderdale-Hollywood International Airport] that will be ready next spring and we're excited about the potential this new route will give us with the traffic coming here to The Bahamas."
According to Fort Lauderdale-Hollywood International Airport's June 2016, Southwest is the third busiest carrier with 18.2 percent of passenger traffic.
Minister of Tourism Obie Wilchcombe is also confident that the addition of the low cost carrier on the FLL/NAS route will lead to higher tourism demand to Nassau & Paradise Island from cities on Southwest's route network.
"Beginning this international flight from the Ft. Lauderdale area is very significant. It represents history, it represents The Bahamas again making that important step to cause further growth in visitor arrivals by connecting with the Florida market," Wilchcombe said.
Earlier this year, Southwest launched a very aggressive advertising program throughout the United States to promote the new service to Nassau out of Ft Lauderdale. This campaign includes billboards, radio, and television advertisements.
The tourism minister also encouraged Southwest officials to explore other islands of The Bahamas as possible destinations for non-stop flights.
"We want to introduce you to other markets in The Bahamas. We are seeing growth in islands such as Exuma, Abaco, Bimini, and we want you to take a look at Grand Bahama," Wilchcombe said.
The new daily flight from Ft Lauderdale leaves at 11: 30 a.m. for arrival in Nassau at 12:30 p.m. It departs Nassau at 2:35 p.m. for arrival in Fort Lauderdale at 3:35 p.m.
Before takeoff to Nassau on Sunday, passengers aboard Boeing 737 were treated to Bahamian food, drinks and music. The aircraft was sent off in grand style with a water cannon salute before takeoff and was greeted at LPIA with another ceremonial water salute.