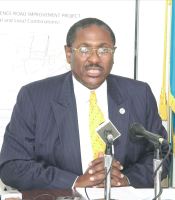 By GENEA NOEL
FN Senior Reporter
genea@nasguard.com
The Platform Committee of the Progressive Liberal Party (PLP) met with party supporters, stalwarts and other officials over the weekend to garner their input for the party's platform in the upcoming general election.
PLP Chairman Bradley Roberts said, the main concern from many was the state of the economy in Grand Bahama, which he said is in "tatters."
Having suffered more before the recession, Roberts said that the island will be a major part of their platform.
Careful not to prematurely reveal any details of the proposed platform, Roberts said that the party plans to hold consultative meetings with members and supporters around The Bahamas.
Grand Bahama, he said, was the first island visited outside of New Providence and meetings in the capitol have been occurring for sometime now.
"There are some serious concerns that need addressing and we have had some very serious discussions," Roberts.
"We have had submissions from various individuals in Grand Bahama, but we thought that we would come and visit. We got lots of input and boy, did we get an earful."
Though the depressed economy was high on the list of concerns, Roberts said that the level of crime also topped the list for residents.
"There was worry about housebreaking, robberies and all of these other issues dealing with crime. People are saying that it has really gotten out of hand."
The Free National Move-ment (FNM) currently has a stronghold in Grand Bahama with five of the six elected seats. However Roberts said that the PLP changed the political face of island in 2002 when they took the majority of seats.
"We intend to achieve that same goal in the 2012 elections," Roberts said.
In 2002 both the FNM and the PLP held three seats in Grand Bahama.
The PLP has already ratified two candidates for seats in Grand Bahama and Roberts said that residents can look forward to other approvals in early January or even before then.
The preparations are necessary, he said, to be successful.
"A wise man always prepares and gets ready for battle," Roberts said.
Although Prime Minister Hubert Ingraham confirmed earlier this month that he will go head-to-head with Oppos-ition leader Perry Christie to be elected as the leader, Roberts said that it does not matter whether he runs or not.
"This is the same man who said that two terms is enough for any Prime Minister. This was the same man who said that he was too old and the country needed new and younger leadership, now this is the same old fellow who is coming back to say he is going to run for a forth term."
Attorney Greg Moss and Doctor Michael Darville have already been ratified for the Marco City and Pineridge constituencies respectively.