STATEMENT!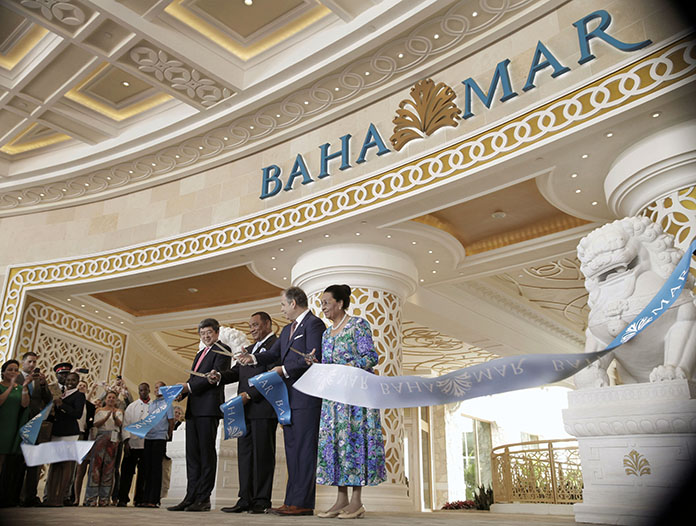 At the request of the Government of Bahamas, I want to briefly provide some information on four extremely important topics pertaining to Baha Mar. With over 27 years of experience in dealing with bankruptcy and reorganization, I have been an expert witness in US bankruptcy courts over 20 times and have served as a Chapter 11 trustee multiple times. I was involved in discussions with CEXIM, Mr. Sarkis Izmarlian and the Government of Bahamas to try and reach an agreement prior to the appointment of the receiver managers. After the receiver managers were appointed, I have assisted the GOB in negotiating the Heads of Agreement and the $101MM payment into the creditor trust. I also served as one of five committee members who oversaw the creditor trust payment process.
These matters are complicated and the Government of Bahamas wants the people to understand the details of how Baha Mar got to where it is today.
US Chapter 11 Process
In June 2015, Sarkis Izmarlian caused Baha Mar to file for bankruptcy in a Delaware Court in the United States after Baha Mar did not have the cash to finish construction. In my experience, the time it takes to process large Chapter 11 bankruptcy cases runs anywhere from 3 to 5 years in US courts. For instance, the Caesar's bankruptcy, in which I testified as an expert witness, was filed in January of 2015 and is still in bankruptcy. The Chapter 11 bankruptcy process for large matters is a very slow process.
The Baha Mar bankruptcy would have been on the longer range, given construction had stopped prior to completion, additional funding was needed and construction to be re-started. Anyone claiming that Baha Mar could have been in and out of a Chapter 11 process within 12-18 months either doesn't understand US Bankruptcy law or is optimistic beyond reason.
This is why the Government of Bahamas forcefully urged the Court in Nassau to assert its authority and not to recognize the Chapter 11 filing in the US. If they had not done this, it is very likely that to date, no employees would have been re-hired, no additional construction would have been done, no payments to creditors, contractors, or employees would have been made and Baha Mar would still be closed.
Instead, today, Baha Mar is open employing 1,600 Bahamians and $101MM has been paid to creditors, contractors, and employees.
Payments to creditors, contractors, and employees
If the Chapter 11 process in the US had been allowed to continue, the creditors, contractors, and employees would most likely have received nothing. Paying these people back and making them whole was a priority in the negotiations between the Government and CEXIM
And, as of today:
-All Bahamian creditors with valid direct claims under $500,000 have been paid in full.
-All Bahamian sub-contractors with valid claims under $500,000 have been paid in full.
-All Bahamian contracts with valid claims over $500,000 have been settled for an average of 42%.
-The total number of Bahamian creditors receiving 100% of their valid claims was over 94%; in other words 306 Bahamian creditors out of 323 received 100% of their claims.
-Additionally all Bahamian Employees and their pensions have been paid in full
Benefits of Agreement
This was a very good deal for The Bahamas – anyone saying something different simply does not understand how these large scale negotiations turn out. In fact, the agreement with includes both one-time and on-going benefits for The Bahamas.
The two largest one-time benefits include the opening of Baha Mar – a resort that will employ a minimum 5,500 Bahamians and is estimated to eventually contribute around 12 percent to the gross domestic product of The Bahamas – and, the payment of the $101 million to creditors, contractors, and employees.
On-going benefits do and will include:
-Creation of 1,600 direct jobs currently, increasing to 5,500 by the end of the year; the new owners must keep a minimum of 5,500 Bahamian employed.
-300,000+ new visitors a year and the associated airlift and taxes
-$45 million of direct tax collections from the hotel
-Gaming tax revenues
-Millions of dollars in non-direct foreign money spent (tour guides, transportation, retail dollars)
-12% annual increase in GDP
-Upgrade in average daily rate room portfolio for New Providence
-Positive impact on Bahamian sovereign debt rating
Concessions
With all large real-estate deals, governments must negotiate concessions for developers – the same is true for Baha Mar. But the concessions are almost identical to what the previous FNM government gave Mr. Izmarlian when he was the owner of Baha Mar. For instance, the same concessions on gaming taxes, property tax, and marketing support that were granted to Izmarlian were also granted in the new deal.
The major difference is a VAT concession, because VAT did not exist during Mr. Izmarlian's negotiations – it was introduced here in 2015. The only VAT that was waived was associated with completing the project which amounts to no more than $7.5 million.
The VAT associated with the sale of Baha Mar was NOT waived. It was deferred and will be collected as customers stay at the resort. Those who say that the agreement resulted in a waiver of hundreds of millions of VAT are incorrect – only up to $7.5 million of VAT was waived. In my expert opinion, this is a small price to get the resort out of bankruptcy, to get the more than $100 million in claims paid to creditors, contractors, and employees, and to get the resort open and offer Bahamians badly needed jobs.