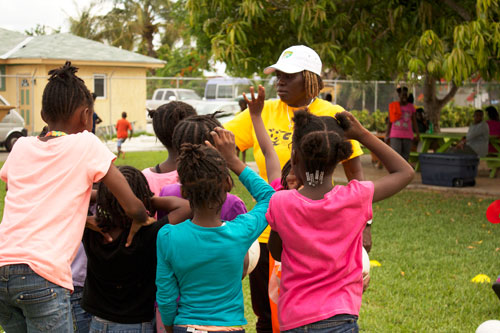 Nassau, Bahamas – Chances Games celebrated 22years of business with the "Summer of Chances" community initiative. For the entire month of July, Chances Games hosted Summer Customer Appreciation Parties at several of their 33 locations throughout the Bahamas.
To reach Bahamian community at large, Chances connected with the Children Emergency Hostel and the Elizabeth Estate Children's Home, in which each child gave their ultimate summer bucket list. The lists consisted of basketball training, soccer games, dance classes, shopping sprees paintball and more. With the help of professionals and local businesses, Chances was able to bring the kids' dreams to life!
Day 1: Movie Night. The scent of popcorn filled the air with a trip to Galleria Cinemas at Mall at Marathon. The teens unanimously picked the action packed movie, Transformers: Age of Extinction. The movie possessed the action which everyone enjoyed, and had them enthusiastic about what else awaits them the following days.
Day 2: Sports Day. The kids at the Children Emergency Hostel were passionate about soccer, so Chances invited the Elite Soccer Club to teach the young athletes the basics in a mini soccer camp. Elite Soccer Club members came out in full force; therefore kids were given special attention in their 3 mini-sessions.
The Elizabeth Estates Children Home's group showed strong interest in basketball and dance, thus Chances Games felt it fit to invite more professionals to show them some moves. The boys were given basketball coaching with former European and South American Professional basketball player, Leonardo Lightbourne. The boys were worked into shape and learned the fundamentals of the game. The young ladies at the Elizabeth Estates Children Home had a girl's session with Shanae Strachan, youth motivational speaker, who gave them tips on attitude, character and other girl's only topics. Afterwards, the ladies were given a cultural dance tutorial with Rechea Coakley, where they were taught a Junkanoo routine and compilation of African style dances.
Day 3: Fun Day. For the final day Chances treated the children to paintball, shopping, and a trip to Mr. Pretzels. The older children were treated to several rounds of paintball action at the Playground Paintball Arena, Bernard Road. The kids where properly outfitted and worked a sweat while learning leadership skills. One lucky girl from the Children Emergency Hostel aspires to be a professional model, thus she was able to participate in a shopping spree at Mucka Mucks, where she was made a star. To end the day, the younger ones had an evening of games and sweets at Mr. Pretzels Family Center.
Chances Games was privileged that the Elizabeth Estate Children Home and the Children Emergency Hostel allowed the opportunity to support the youths!