SUSPECT SHOT BY POLICE DURING HIGH-SPEED CHASE, STOLEN VEHICLE RECOVERED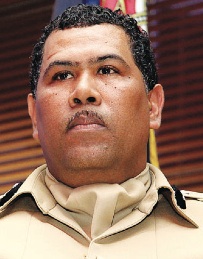 Nassau, Bahamas – According to reports shortly before 3:00am, on Saturday 4th April 2015 officers from the Mobile Division were on patrol in the Peardale area, when they observed a suspected stolen vehicle with four male occupants driving with it's lights off. The officers ordered the occupants to stop the vehicle, but they refused and sped off at a high rate of speed. A high-speed chase ensued throughout several streets in Central New Providence that ended at Hospital Lane, where the vehicle crashed into a fence and one of the suspects was shot to the shoulder, however, three of the suspects were able to elude police on foot. The injured suspect was taken hospital where he remains in stable condition under heavy police guard.Investigations are ongoing.
9 SUSPECTS ARRESTED DURING FRIDAY MORNING OPERATION
POLICE are reporting the arrest of 9 persons for various criminal offences to include, possession of dangerous drugs, armed robbery, Fraud, house breaking and threats of harm during an operation conducted throughout New Providence yesterday morning.
The operation which is consistent with the Commissioner's 2015 Policing Priorities, targeted persons involved in criminal activities, such as drugs and firearms, persons wanted for various criminal offences, prolific offenders, persons wanted for outstanding court warrants and motorists operating in Breach of the Traffic Laws.
TWO SUSPECTS ARRESTED BY SOUTHERN DIVISION OFFICERS FOR DRUG POSSESSION
According to reports shortly after 3:00pm, on Friday 3rd April 2015 officers from the Southern Division1were on motorize patrol on Meadow Street, when they observed a Honda Civic vehicle driving with two suspicious men inside. The officers brought the vehicle to a stop and on conducting a search of the two men found a quantity of marijuana in their possession. The two men were taken into custody for questioning.