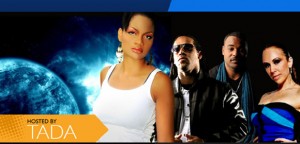 Nassau, Bahamas – What comes to mind when you hear the names T-Connection, The Beginning of the End, Johnny Kemp, and Tony McKay? These aforementioned Bahamian recording artists have at one time or another, been signed to major recording companies, and attained some degree of international success. Another name was recently added to this elite group, with the signing of Alexandria Christie to Interscope Records. The Music Momentum Summit (MuMo), could not be announced at a more opportune time, while the attention of the major music industry is again drawn to the shores of the Bahama Isles.
MuMo is the brainchild of international award-winning recording artist/songwriter TaDa, and is an official Carifringe event. Taking place in Nassau Bahamas on October 1st & 2nd, MuMo promises to connect the brightest major music executives with the burgeoning talents from the islands. Hosted by The British Colonial Hilton, conference registrants will enjoy panels, star-studded keynote addresses, a listening session, the MuMo Marketplace and special concert events.
"I'm excited to have a chance for my music industry friends from abroad to come down and immerse themselves in a little Bahamian culture, while imparting their music industry insight and know-how. For years Bahamian musicians have asked me to host a music conference, and Carifringe was the perfect opportunity to do so," said Terneille 'TaDa' Burrows.
Panels will cover such areas as Music Business Administration, Songwriting, Promo & Technology, Radio Airplay & DJs, while the A&R listening session will afford select conference registrants the chance to have their record critiqued by major label representatives.
The star-studded keynote speakers, music industry executive panelists and special concert events will be disclosed at a later date. Visit the Music Momentum Facebook page for lineup updates.
Confirmed MuMo media partners include The Nassau Guardian, More 94 FM, TheBahamasWeekly.com, Island FM, e-Life 242 Magazine and Star 106 FM. Corporate partnership opportunities are still available! Interested parties should contact the Music Momentum Summit by phoning 404-954-0480, or emailing mumosummit@gmail. com