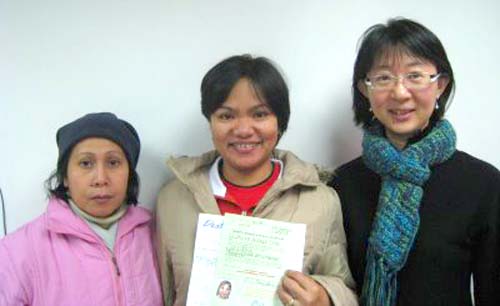 <<< Worker holding Bahamas government green work permit in Hong Kong before leaving for the Bahamas. What in the hell is this?
Vice President Manuel "Noli" de Castro on Friday disclosed that the Task Force Against Illegal Recruitment (TFAIR), in coordination with the National Bureau of Investigation (NBI), is investigating the people behind a Manila-based ring allegedly trafficking Filipino workers to the Bahamas by way of Cuba.
Reports identified the alleged leader of the illegal recruiters as a certain Leonid "Ned" Pascual, with his partner identified as a certain Pascuala "Peachy" Ramos.
"His group had attempted to bring in Filipinos, disguised as tourists, to the Bahamas via Havana four times since 2008. Recently, they attempted to bring in seven Filipinos," De Castro quoted reports from the Philippine Embassy.
The report also revealed that Cuban authorities learned of two attempts made in July 2008 and April 2009 when the victims were left stranded in Havana.
At least two other attempts, made in December 2008 and January 2009, managed to bring the Filipinos to The Bahamas.
De Castro, who also heads the TFAIR,said the Bahamanian Embassy in Havana is aware of this modus operandi by the Manila-based recruiters and will turn down visa applications of suspicious applicants.
"Cuban immigration authorities have indicated that they will apprehend and incarcerate anyone who violated their laws," De Castro said.
The Vice President also urged Filipino jobseekers not to deal with Pascual and Ramos, and instead report them and their cohorts to police authorities.
He also reiterated his warning to the public to be wary of recruiters promising lucrative employment opportunities abroad, urging them to first verify such opportunities with the Philippine Overseas Employment Administration to avoid being victimized.
Recent data disclosed that of nearly 5,000 travelers barred from leaving the country during the first half of 2009, most were suspected victims of human trafficking and illegal recruitment syndicates. Some were prevented from leaving due to improper or incomplete travel documents.
Of the total, a third or 1,236 of them were Filipinos suspected of being "tourist workers" or undocumented Overseas Filipino Workers disguised as tourists.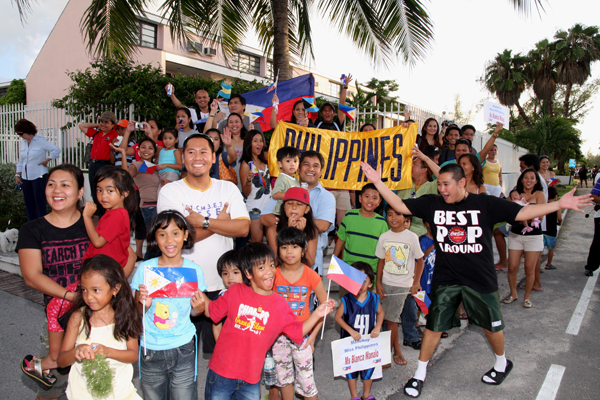 Supporters of Miss Philippines show who's their favorite during the Miss Universe float parade on Thursday. After Bahamas Press complained to the Ministry of Tourism, the long awaited float parade finally took place.