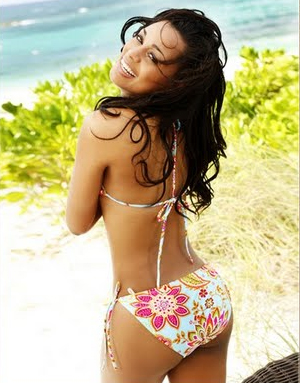 <<< Miss Turks and Caicos Jewel Selver in her swimsuit Jewel Selver representing Turks & Caicos at the Miss Universe pageant will return home to recover from dehydration.
Nassau, Bahamas — Witness this year's Miss Universe 2009 pageant where it can be watch in live web cast directly from the Atlantis Paradise Island in Nassau, Bahamas.
The Miss Universe beauty pageant is a once in a year prestigious event that showcases the different enchanting and dazzling beauties of ladies from different country in the world. In the Miss Universe 2009, more than 84 countries participated and this years pageant will be held at the Atlantis Paradise Island in Nassau, Bahamas.
It can be watched lived on several TV stations but officially can be enjoyed on NBC and Telemundo.The announcement of the online streaming or webcast feature of this event, marks the first time the Miss Universe preliminary competition will be streamed online to a worldwide audience. Ustream, the leading internet broadcasting platform, allows anyone to stream live to an online audience. Using NewTek TriCaster, portable live production system, anyone can produce and live-stream a network-style production.
At the Preliminary Competition, all contestants will compete in the Swimsuit and Evening Gown categories as part of the selection of the top 15 finalists who will be revealed during the beginning of the two-hour live telecast of the 2009 MISS UNIVERSE® Pageant live on NBC and Telemundo on Sunday, August 23rd at 9 PM ET.
If you wish to watch this event, you can also visit the www.telepisodes.com/2009/miss-universe-2009-schedules-contestant .. for the live webcast of the event.
The question now is, "who will be crowned as the next Ms. Universe 2009!?