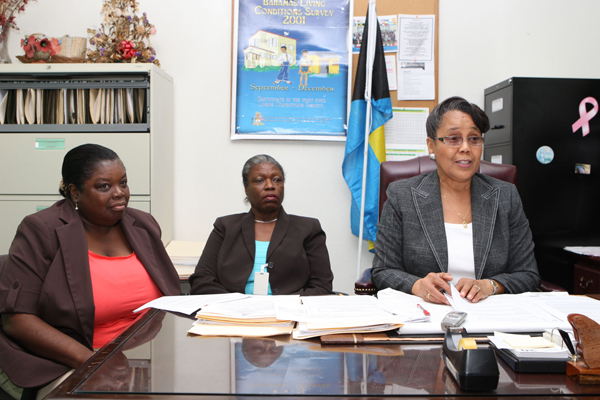 From left are Deputy Director, Leona Wilson; Assistant Director, Carmen Dawkins; and Director, Kelsie Dorsett.
Nassau, Bahamas — Of the unemployed persons in New Providence more than a quarter had left their jobs within the last twelve months. Of these persons, 51% were either laid off, dismissed, or the business in which they were employed ceased operations.
In Grand Bahama approximately twenty two percent of the unemployed persons left their jobs within the said period, and of these persons, slightly more than a third (36%) were laid off, dismissed, or the business where they had worked ceased operations.
The survey estimated the number of private households in The Bahamas to be 109,260, an increase of 1.2 percent over the one year period. New Providence households experienced a decline of 13.6% in their household income which now stands at $40,528. The decline for households in Grand Bahamas was slightly lower (8.7%) decreasing from $41,172 in 2008 to $37,562 in 2009.
Further details pertaining to the 2009 survey will be available at the end of September when the final report is completed and released. CLICK TO READ dept_of_statistics_labour_force_survey_09