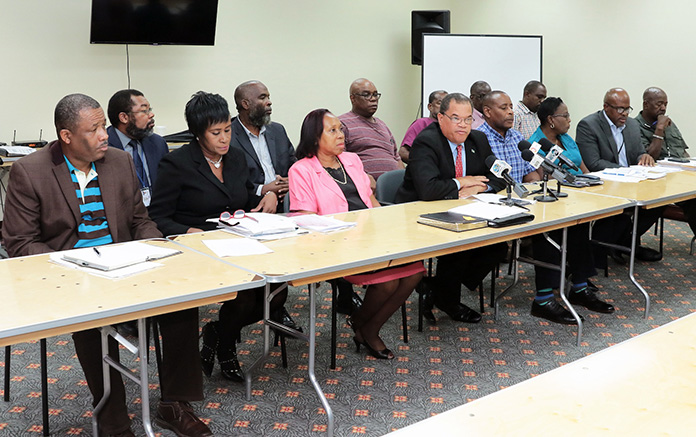 NASSAU, The Bahamas – Heads of a Shanty Town Action Task Force led by Senator the Hon. Dion Foulkes, Minister of Labour, presented findings of a survey of shanty towns on Faith Avenue west, the eastern side of Bacardi Road, and off Golden Isles Road at a press conference, Thursday, July 12, 2018 at the National Training Agency.
Reports were given by heads of committees representing the Ministry of Works, Water and Sewerage Corporation, Bahamas Power and Light, Ministry of Social Services, Ministry of Agriculture, Royal Bahamas Police Force, Office of the Attorney General, Ministry of Foreign Affairs, Department of Immigration, Department of Environmental Health, Department of Labour, and the Humane Society.
Senator Foulkes reported that on the advice of the Office of the Attorney General, the eviction deadline for shanty towns has been extended from July 31 to August 10.
"The notice required a 14-day period that invited all residents who have any legal documents to prove that they have a right to be on the shanty towns to come forward and present those documents to the Building Control division of the Ministry of Works," said Senator Foulkes.
The task force reported that as of July 6, 2018, fourteen buildings have approved building permits, none were issued occupancy certificates and there is nothing to indicate that they have been inspected. The buildings are located in shanty towns of south-west New Providence. (BIS Photos/Derek Smith)