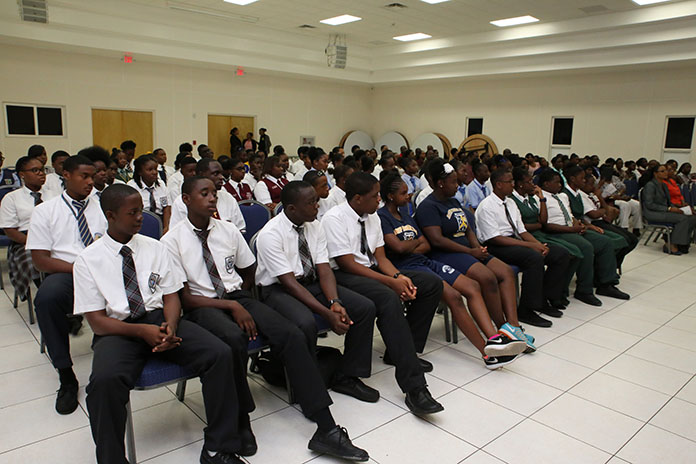 FREEPORT, Grand Bahama – Over 100 members of the Technical Cadet Corps Programme were inducted during a ceremony at the Bahamas Union of Teachers Hall on Thursday, September 28.
Held under the theme, "Technical and Vocational Education is the way of the future," Mr. Brown challenged the high school students to take the knowledge and experience they will gain through the programme and propel themselves into the direction the technical and vocational field is heading.
The newly appointed Acting Permanent Secretary made the remarks on behalf of Minister of State in the Office of the Prime Minister, Senator the Hon. J. Kwasi Thompson, who was unable to attend the event.
Stating that a Tech Summit will be held in Freeport on November 9 and 10, Mr. Brown added technology leaders from all of the major companies will be present, asking if the inductees are ready for this move, as innovation and education will be key.
The first in a series of Business to Business Expos was held on Thursday morning, when businesses from the industrial sector shared the businesses and services they are in need of, and Mr. Brown urged the inductees to be prepared for the upcoming opportunities.
"The TCC Programme is that readiness platform for you to participate and benefit from the technical and vocational sectors.
"Especially in this trying economy, we can no longer afford to simply send out resumes and wait for a job. Instead, we ought to find innovative ways to maximize our skills.
"One of our primary goals for Grand Bahama is driving this economy to become one driven by entrepreneurship and self-efficacy."
With the establishment of a Small Business Development Center, support and guidance will be available to ensure success for entrepreneurs.
"Entrepreneurship is the key to an upward turn in our economy, and I assure you that we stand with you to make this possible."
-30-
INDUCTEES – Over 100 students from high schools in Grand Bahama were inducted in the Ministry of Education Technical Cadet Corps Programme. Held under the theme, "Technical and Vocational Education is the way to the Future", Acting Permanent Secretary in the Office of the Prime Minister in Grand Bahama, Harcourt Brown, was the guest speaker. The event was held on Thursday, September 28, 2017 at the Bahamas Union of Teachers Hall. (BIS Photo/Lisa Davis)