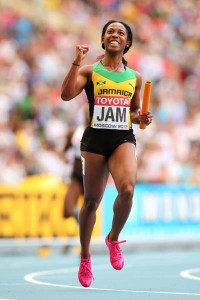 BREAKING NEWS >>> BP is now LIVE AT LPIA where Jamaican Powerhouse Shelly-Ann Fraser-Price and the 37 member Jamaican Team have just landed — BP IS WAVING THE BAHAMIAN FLAG!!!!! WELCOME!!!!!
Shelly-Ann Fraser-Pryce, Jamaica's much-decorated "Pocket Rocket", loves relays. After all, in addition to being the world and Olympic champion at 100m, the diminutive sprinter was the anchor of Jamaica's championship-record-setting 4x100m relay team in Moscow, the second-fastest of all time at 41.29. She also led off Jamaica's silver medal team in London, bested there only by USA's 40.82 world record run.
Fraser-Pryce will be carrying the baton twice for Jamaica in Nassau, entered in both the 4x100m and 4x200m pools. With 24 countries entering teams – from Jamaica's Rocket-powered 4x100m to Bahrain's 4x1500m team featuring Maryam Yusuf Jamal – every women's race list includes global champions.
And for every team with a world or Olympic champion, there is another quartet hoping to gain just enough ground on the other three legs to overcome that advantage.