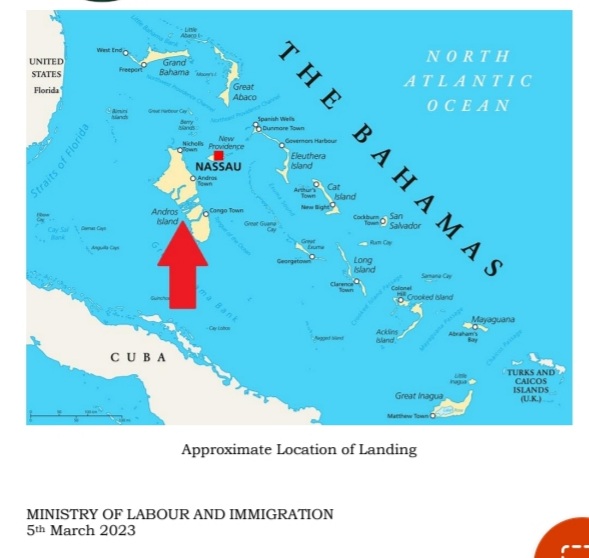 On Friday (3rd March 2023) routine patrols and surveillance resulted in the discovery of a vessel carrying unlawful entrants from the Republic of Haiti off the remote western coast of Andros. Investigations indicate that the vessel travelled near Cuban waters and was enroute to the United States. This appears to be an increasing trend to avoid interception in Bahamian waters.
A team from the Royal Bahamas Defence Force and the Department of Immigration was immediately dispatched to investigate and apprehend the unlawful entrants. Initial aerial surveillance showed distressed persons seeking assistance.
Given the remote location of the landing, the unlawful entrants were taken into custody this morning (5th March 2023). Following an extensive search of the landing area, a total of 127 Haitian Nationals were apprehended: 116
Males, 9 females and 2 minors. The unlawful entrants are presently being transported by the Royal Bahamas Defence Force to New Providence.
The Department of Immigration is working with the Ministry of Foreign Affairs to ensure that the unlawful entrants are repatriated as quickly as possible.
The Department of Immigration and our uniformed forces continue to monitor emerging unlawful migration trends and resources will be redeployed as necessary to protect our borders from unlawful entry.
The public is encouraged to report violations of our immigration laws or suspected unlawful landings to local law enforcement or the Department of Immigration at (242) 604-0172 or (242) 604-0196. Information can also be forwarded via the Department's website at www.immigration.gov.bs under the tab "Contact us!'