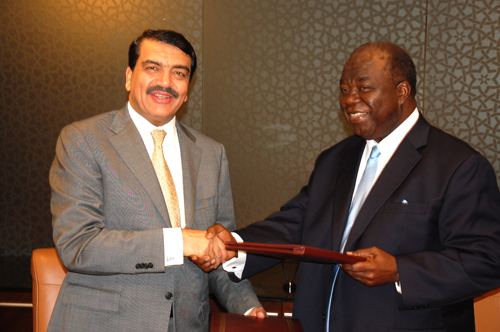 WASHINGTON, D.C. — The Bahamas formally established diplomatic relations with Qatar during a signing ceremony held at the Embassy of Qatar in Washington, D.C. on August 1, 2013.
Ambassador Dr. Elliston Rahming, Permanent Representative to the Organization of American States (OAS), was designated by the Government to sign the agreement on behalf of The Commonwealth of The Bahamas.
Diplomatic relations between The Bahamas and Qatar, a sovereign Arab state, had been sought since 2003 and the agreement was finalized by Minister of Foreign Affairs and Immigration, the Hon. Fred Mitchell, during a visit to Qatar earlier this year.
Citing the significance and importance of a nation such as Qatar having diplomatic ties with The Bahamas, Ambassador Rahming conveyed gratitude to His Excellency Mohamed Bin Abdulla Al-Rumaihi, the Ambassador of Qatar to the United States.
The Qatari Ambassador noted that his country can learn about the tourism industry and there can be valuable opportunities for trade expansion, transfer of technology and knowledge in the energy sector.
Ambassador Rahming extended an invitation on behalf of the Government for the Qatari Ambassador to visit The Bahamas and he said will seek to do so in mid-September 2013, including a visit to Grand Bahama to examine collaborative opportunities. In turn, the Qatari Ambassador extended an invitation for Ambassador Rahming to visit Qatar during this year.
It is anticipated that a Technical Cooperation Agreement will be negotiated for signature in short order now that the Bilateral Diplomatic Relations have been established.
Located in Western Asia, on the northeasterly coast of the Arabian Peninsula, Qatar's sole land border is with Saudi Arabia to the south, with the rest of its territory surrounded by the Persian Gulf. A strait in the Persian Gulf separates Qatar from the nearby island state of Bahrain.
A former British protectorate, Qatar gained independence in 1971 and since then, as a result of its extensive reserves of oil and natural gas, it has become one of the region's wealthiest states.