Oswald Brown Writes –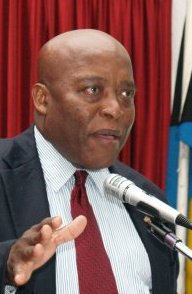 By OSWALD T. BROWN
I'm still trying to figure out how severe the political fallout will be within the Free National Movement (FNM) over the vicious verbal attack on FNM leader Dr. Hubert Minnis in a commentary on Facebook by Sharon Turner, a "special friend" of former Prime Minister Hubert Ingraham.
Given Turner's close ties to Ingraham, personal and otherwise, it is safe to assume that she was acting on his instructions when she wrote her invective-filled commentary that, among other things, revealed that there were strong disagreements between Ingraham and Dr. Minnis during the campaign leading up to the recent Abaco bye-election.
For example, Turner's commentary includes this startling revelation: "You, who allegedly met with FNMs on the night of the by-election loss and told them that you were actually not upset that the Party lost, allegedly saying the loss was actually 'blessing in disguise because now they can finally and once and for all get rid of Hubert Ingraham.' Why didn't you go to the FNMs who worked long and hard and worked faithfully on the ground to try to get a victory and tell them that you were actually secretly pleased the Party was beaten at the polls? Why didn't you tell them what a wonderful opportunity and blessing you thought the crushing defeat was for the Party? Why didn't you go to Abaco and tell them that one of your primary interests was to try to wipe away any vestige of their former MP from the psyche of the FNM?"
This clearly explains why Ingraham decided to send a press release to the media conceding that FNM candidate Greg Gomez, whom he had personally chosen, had lost the election.
Whether or not Dr. Minnis has enough support within the FNM to survive as leader of the party depends on just how "fed up" the party's hierarchy and the majority of the rank-and-file members of the FNM were with Ingraham's dictatorial style of leadership.