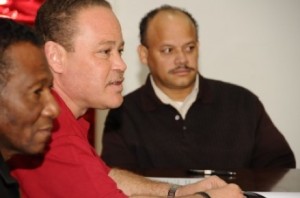 Nassau, Bahamas – For once Carl Wilshire Bethel has sided with the Bahamian people and according to sources in the FNM will oppose the sale of BTC to Cable and Wireless.
Bethel, the once dissenting voice in PAPA's Cabinet is proving he is "PLENTY MAN" these days as he moves to reclaim his political status.
What is being termed the newly formed "Bethel Coalition" inside the FNM, recently held a town meeting in the Sea Breeze constituency to canvass support against Papa's push to sell BTC.
Sources reveal Bethel has been having secret meetings with certain key FNM Members of Parliament, who are mutually opposed to the sale and they are planning a way to turn back the sale in hopes of saving their seats come 2012.
The Bethel Coalition seems to be on the move, and with it being apparent that PAPA is weak at this time, some of those who fear loosing come 2012 are seeking to capitalize on winning favor back with the people.
With political ears close to the ground a source in the FNM tell us, "Word on the street that the FNM is double-doomed once PAPA and Vargo pulls the trigger with this sale to C&W. We will not just get a ROYAL CUT_YOU_KNOW_WHAT BP, but we believe FNM MPs will have serious turbulent bowels movements for the rest of our political lives. The NDP may obtain the new status as the opposition voice in the country and the PLP would look at another long track of 25-year rule with the CDR. PAPA really "FOC_US" this time."