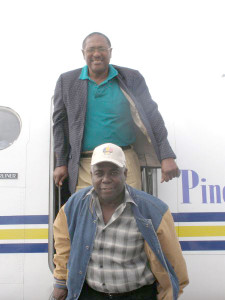 By STAFF WRITER Guardian News Desk on 1/19/2011
Progressive Liberal Party (PLP) deputy leader Philip Brave Davis and PLP chairman Bradley Roberts started a nationwide listening tour called "Operation Sweep" in Rum Cay and San Salvador over the weekend.
The tour appears to be an extension of the PLP's plans to travel to each inhabited island in the country to "listen to the voices of the people", that it announced last year.
Davis and Roberts, who visited the islands last Saturday and Sunday, took several PLP candidates for the upcoming general election with them.
Greg Moss (running in Marco City), Dr. Michael Darville (Pineridge), Dr. Danny Johnson (Carmichael) and Ryan Pinder (Member of Parliament for Elizabeth) were among other party officials who went on the visit.
"The two-day trip proved fruitful for the MP (Davis) as he got to visit and talk with those who he values so much – his constituents," said a statement from the Rum Cay, Cat Island and San Salvador MP's office. "(He) would have stayed longer on these historic isles but had to travel back to the capital to attend the funeral services of long time friend, Arnold Cargill.
"The team of young PLP (members) were welcomed by the island's youth at the local PLP headquarters, where they were feted to a variety of cultural displays and of course, local cuisine."
The statement said as Davis left the island he told his supporters "they must be brave."