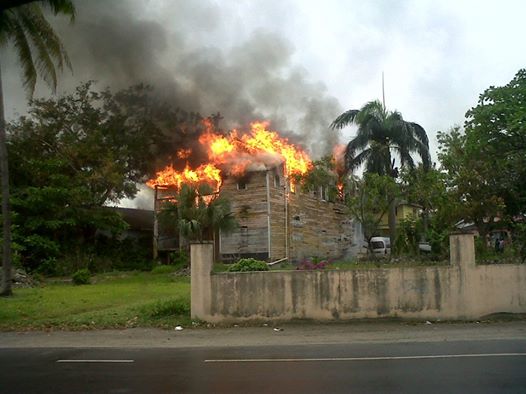 Nassau, Bahamas — Bahamas Press is at this hour live in the Pond area of New Providence where we can report the Butler's homestead is now on fire.
According to sources on the ground, the fire began sometime around 9am and has burnt the building to the ground. Fire fighters arrived late to the scene.
The abandoned homestead was used by many vagrants in the area, and some believe that someone living inside the eyesore started the blaze.
The Butler's homestead was owed by the Bahamas' first Bahamian Governor General Sir Milo Butler. It stood at the center of the Butler's financial power and was the site of the first store on the ground floor.
In a short statement posted on BP's facebook a spokesperson for the Butler family wrote: The staff at Milo Butler & Sons would like to thank the public who have flooded our offices with calls of concern and interest. This building has long been an established part of our history and it will forever remain a memory in our hearts of a fond beginning. We are grateful nobody was hurt in this fire."
One eyewitness told BP, "Plenty history went up in smoke in that place. I could remember eating the big Butler bread in there when I was a child. But now the eyesore is gone and I guess we move on."
We report yinner decide!
below are LIVE SHOTS TAKEN FROM BP's vast media teams on the ground in and around the area.