LOST: The PM done tour Lucaya Marketplace like three to four times in the last year!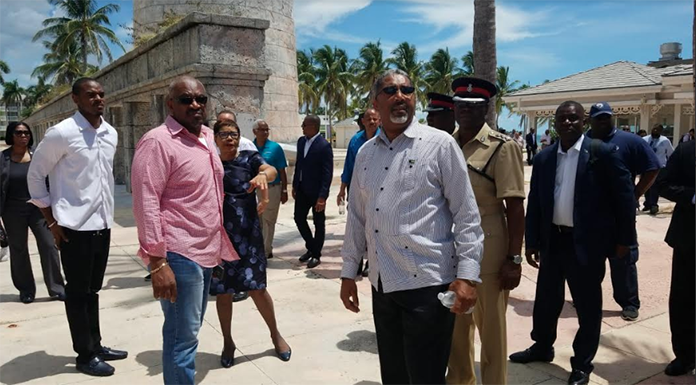 Freeport – Prime Minister Dr. the Hon. Hubert Minnis and his 'gussiemae' touring delegation of Cabinet Ministers and government officials are today on a tour of the Grand Lucayan resort in Grand Bahama, viewing the facilities.
Now this is interesting because this is the same Prime Minister who told the People of Grand Bahama from May 2017 that he will open the failed hotel property. Just a few months ago the PM went himself to tour Port Lucaya Marketplace and even then he had nothing for the people of Grand Bahama. No plan, no investment, no vision, no strategic partner. No new programme for the Grand Bahama Port Authority whose job it is to attract investment to the island.
One year later, the whispers have come that a decision to buy the Grand Lucaya Property has been reached. And, despite this plan, when are they going to tell the people of Grand Bahama how airlifts would be achieved? Who will carry the Brand title? Who will be the booking agency for a global marketing strategy? Who will carry the Casino Brand as the island has no functioning Casino operator? And still we have no plan as to who will be the international brand/management company to attract and run the property, if and/or when the day of opening happens. WHAT A GAMBLE!
Minnis is in deep. The talent around the PM is weak. The men and women around the table are novices. There is little to no institutional knowledge sitting around the table and thus – without ONE PLAN – only disaster could result.
We wonder if anyone in the Cabinet knows what Laker Air was all about for the island of Grand Bahama? We wonder if they got that yet? Without any airlift to the island, only one thing will result when the Government buys the property; the taxpayers dollars will be gambled away.
Pictured walking around touring with the Prime Minister, is General Manager of Grand Lucayan Veronica Clarke. The group also visited Port Lucaya Marketplace and viewed business establishments, met straw vendors and taxi drivers [again like this is the second time in a year].
We know they also visited the site of Scandalous OBAN!
We report yinner decide!