Deputy FS goes on leave until October? What kinda ship is PM Minnis running in the FINANCE OFFICE?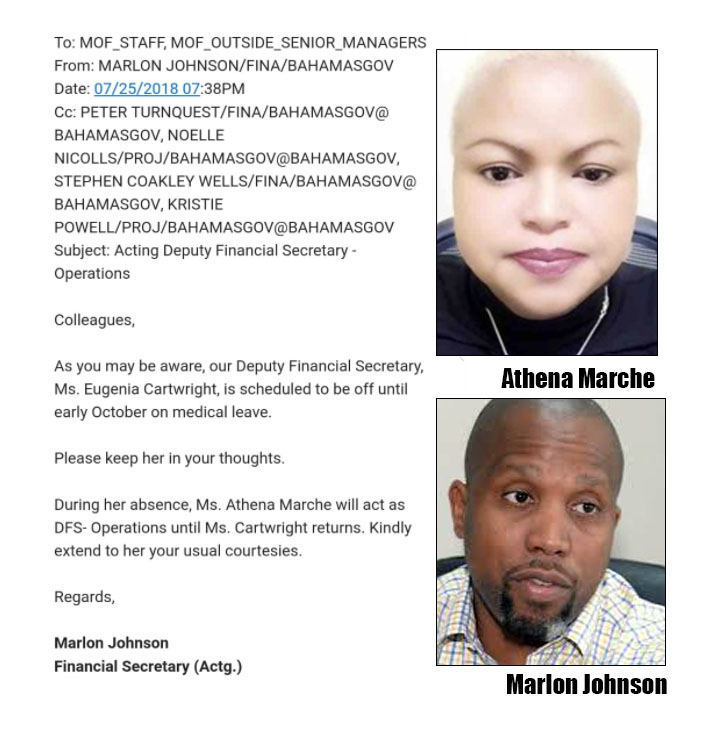 Nassau – The transfer and promotion of Ms. Eugenia Cartwright was supposed to compensate for the known and glaring deficiencies of Mr. Johnson in the role of Financial Secretary.
Things have not gone to plan with Ms. Cartwright now going on extended medical leave and, shortly after she returns, pre-retirement leave.
Even she, a woman known for her high tolerance for mediocrity, (she was the longest serving Treasurer in history but the Treasury never got a clean opinion from the Auditor General during her tenure) could not tolerate the Turnquest/Johnson duo for any longer.
Now the appointment of Ms. Marche as Ms. Cartwright's heir apparent plunges the Ministry of Finance into the next round of turmoil, at a time when the country can least afford a failing Ministry of Finance.
There was a very good reason why Ms. Marche was pushed off the fast track by Ingraham/Laing/Cunningham. There are officers within the Ministry of Finance, senior to Ms. Marche in post, more qualified academically with much more relevant practical experience, but she was parachuted into her position above them for her loyalty to the governing party and her complex friendship with Mr. Johnson.
Putting her into the stressful position of covering up Mr. Johnson's known inadequacies for the post of Financial Secretary will only remind persons of her previous stint in Inland Revenue – and it was not pleasant.
Meanwhile the real FS is still out on paid leave while three persons brought in cannot do his one job! One must wonder what does the public service commission has to say about this and we question whether this kind of chaos is even possible in the rule book for the Public Service?
Mr. Turnquest should take heed.
We report yinner decide!