More Bahamians set a bright future for themselves…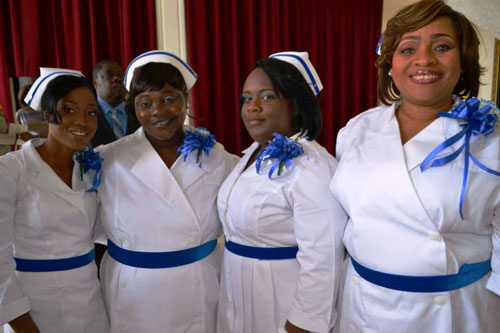 Nassau, Bahamas – Approximately 60 persons are now more qualified to assume critical positions in the healthcare sector after completing academic programmes at The College of The Bahamas. A special Pinning Ceremony held on Monday, June 2nd, recognized the graduating cohort from the School of Nursing and Allied Health Professions (SNAHP), who were embraced into a community of health care practitioners.
More than a symbolic rites of passage, the ceremony was also a platform for the graduands to commit to the highest standards of professionalism, duty and honour.
Terrell Rolle, who earned a Bachelor of Science Degree in Nursing, was both relieved and grateful.
"Today is very special to me because this means that I have now been officially recognised as a Registered Nurse. I've been studying for many years and now I get to show my family, along with my colleagues, the hard work I've put in and now it's finally paying off," she said following the ceremony.
Darron Turnquest, Director of Youth and keynote speaker for the event, challenged the graduands to set the highest standards for their performance in the health care sector and infuse their productivity with passion.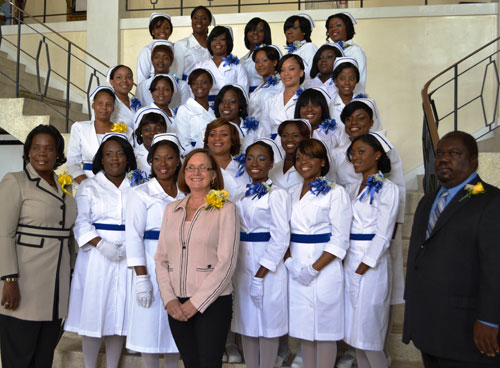 "Passion has to always remain alive. You will find that some people will tell you, 'You are working too hard. You need to calm down' and 'We have all the time in the world'. No matter who says that, at the end of the day say, 'I am not just a nurse. I am the most amazing nurse!' When you walk into the Princess Margaret Hospital, Doctors or a public clinic, you must set a new standard, the best standard. You must define nursing in its truest form," he said.
He urged the group to build a life dedicated to service and sacrifice.
"There are things we must remember when we are preparing for a new generation and when we are bringing up the standard, setting the expectation. We must first prepare ourselves, we must have passion," Mr. Turnquest added.
Chair of the School of Nursing and Allied Health Professions, Dr. Theresa Moxey-Adderley said the Pinning Ceremony was a stepping-stone towards an even brighter future.
"Today, family and friends gather here to honour the graduands as they are pinned with a specially designed school pin that may be worn as a symbol of academic and clinical accomplishment. Ceremonies such as this are a time for celebration and for giving thanks. I do hope that those receiving a pin today will see this achievement as the first step in achieving greater success in the future," she noted.
The School of Nursing and Allied Health Professions Pinning Ceremony is a nine year old tradition for The College of The Bahamas and is held as part of the institution's Commencement activities. This year The College is marking its 39th Commencement Ceremony. SNAHP graduates are receiving the Bachelor of Science Degree in Nursing, Registered Nurse to Bachelor of Science Degree in Nursing, Associate of Science Degree in Nursing, Diploma in Midwifery and the Diploma in Environmental Health.