VAT PSA 15 from King Of Hearts Media on Vimeo.
Dame Marguerite Conveys Greetings at Princess Margaret Hospital annual visit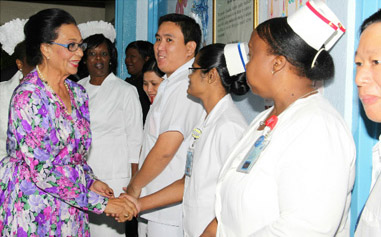 Nassau, Bahamas — Her Excellency Dame Marguerite Pindling, Governor General of the Commonwealth of the Bahamas, brought Christmas Greetings during the Public Hospitals Authority Princess Margaret Hospital Annual Visit of the Governor General under the theme, "For Such A Time As This," on Wednesday, December 3, 2014.
At the hospital she visited the Children's Ward, and said hello to some of the Princess Margaret Hospital staff.
Tidbits: VAT Rates from King Of Hearts Media on Vimeo.