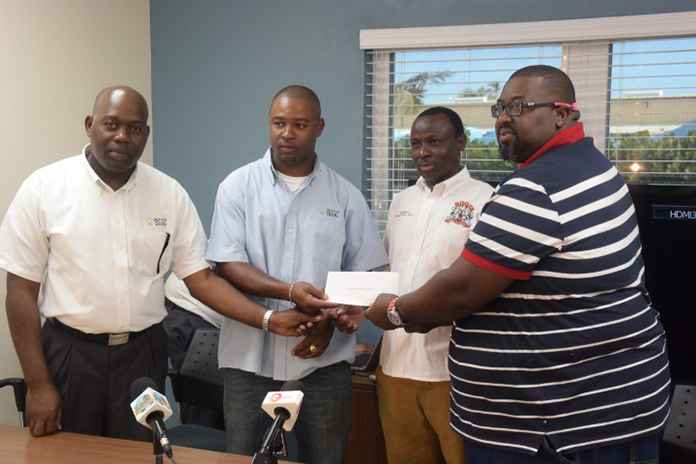 Nassau, Bahamas – Investing in the community and culture is paramount to the growth and development of any country.
The Bahamas Striping Group of Companies through its charitable organization, The Dollar That Could Project, recently donated ten thousand dollars ($10,000.00) to The Roots Junaknoo Group to assist them in their preparations for the upcoming 2017 Boxing Day, and 2018 New Year's Day parades.
The Dollar That Could Project was launched in 2013 with a focus to provide assistance to various charitable initiatives and causes throughout the country. Since its launch, the project has donated over one hundred thousand dollars ($100,000.00) to various organizations in New Providence and Grand Bahama inclusive of The Bahamas Red Cross, The Bahamas Humane Society, The Grand Bahama Children's Home, and The Rotary Clubs of Grand Bahama. Additionally, each year, the project has donated thousands of school bags, turkeys, and toys to the Urban Renewal Commission.
During the course of 2017, a notable contribution was made to the Charles Maynard Scholarship Foundation, and to culminate 2017, the Principals of BSGC selected The Roots Junkanoo Group because they were impressed with their performance throughout many Junkanoo parades but the altruistic nature of the organization.
Dr. Allen Albury, Managing Director of Bahamas Striping Group of Companies indicated that the company realized that Junkanoo plays a vital role in the lives of Bahamians in terms of the artistic culture and discipline, as well as keeping young men and women off the streets in meaningful activity, and it is hoped that they do well in the upcoming Junkanoo parades.
The Dollar That Could Project donates to many charities, and programs that are focused on young people.
Mr. Dwayne Ellis, Director of Finance for The Roots Junkanoo Group stated, "We are very happy to receive this donation, because we are the first Junkanoo group to launch a scholarship program."
He also concluded that they were able to provide five members of the Junkanoo group with scholarship to attend college in The United States, Canada, and China, and the funds received will go towards the group's worthy causes for the upcoming year.