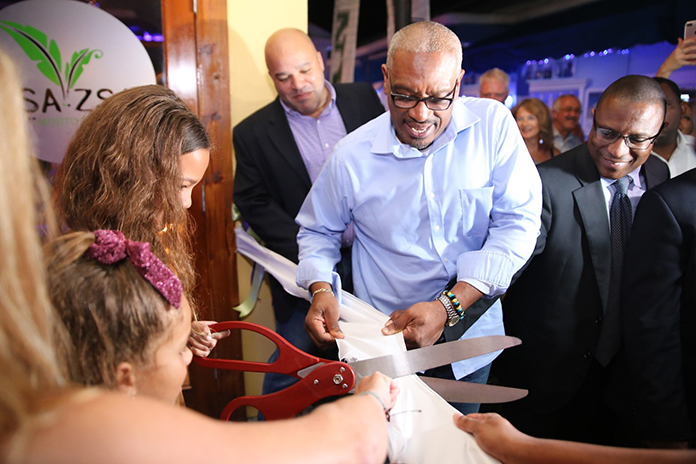 FREEPORT, Grand Bahama — Prime Minister, Dr. the Hon. Hubert Minnis noted Friday that it is unusual for a restaurant to retain all of its employees during a time of recession and economic hard times, and that the owners of Zorba's Restaurant must be commended for not only maintaining the employment status quo, but also expanding their business and making a significant contribution to the economy of Grand Bahama.
"What is being demonstrated is the confidence that the owners of this business have in the Bahamian economy," added Prime Minister Minnis. "Under ordinary circumstances, if a restaurant or business suffers from something as devastating as a fire, in many instances that business would close especially knowing the economy of the entire country was experiencing great difficulty.
"But Nick and Noelle, not only remained opened, they renovated and expanded. That demonstrates true confidence in this society."
The Prime Minister's remarks came during the re-opening ceremony of Zorba's Restaurant and the launch of Zsa Zsa Mojito Bar in Port Lucaya Marketplace on Friday, November 24, 2017. Also attending the event were Minister of State for Grand Bahama, Senator the Hon. Kwasi Thompson and Minister of Youth, Sports and Culture, the Hon. Michael Pintard.
The event was a celebration of commitment, tenacity and faith in Grand Bahama. Like many businesses in Grand Bahama, Zorba's Restaurant and Agave Restaurant both suffered damage from recent hurricanes as well as the effects of the downturn in the Grand Bahamian economy. In addition, two months ago Zorba's Restaurant was damaged by fire, forcing part of the restaurant to close.
In the midst of all of these trials, owners of Zorba's and Agave Restaurant did not let go any of their 100 staff members. This, according to the Prime Minister, says a lot about the owners of the restaurants.
"We, the government did all we could during these times to try and stimulate business in the Marketplace area, and the Prime Minister's office here in Grand Bahama held certain events in this Marketplace to help keep the businesses afloat," said Prime Minister Minnis.
"Earlier today we launched an entrepreneurship program for young people, who will be given monies to start their respective businesses; and it is our hope that as those businesses grow, they will employ more people who in turn will have money to further support the Grand Bahama economy."
As far as the re-opening of the Grand Lucayan resort is concerned, Prime Minister Minnis told the audience that they are even closer to a resolution and the sale of that hotel, during which time the resort would be renovated and re-opened.
"So, Grand Bahama is on the move," said Prime Minister Minnis. "We will
continue to work to stimulate the economy of Grand Bahama."
Continuing, he said: "So, again, I want to congratulate the owners of these restaurants and thank them for their confidence in the Bahamian economy. I am certain that just as God blessed them in their business during hard times, God will continue to bless them and their staff in this new venture."