Peter Turnquest and FNMs have no damn shame – FNMS LATE AGAIN!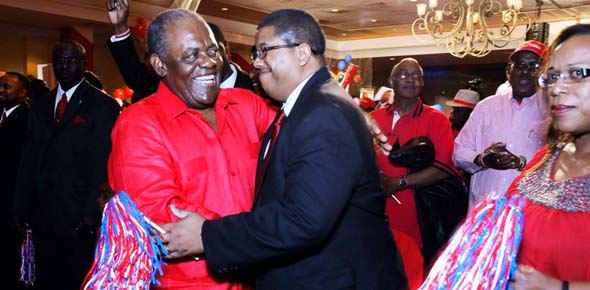 How much money has been collected for the criminal who slapped the piss out of a Principal? FNMs supporting criminal behaviour!

Nassau, Bahamas — Peter Turnquest got up on the floor of the Parliament today attacking the Minister of Education Jerome Fitzgerald for his defence in the protection of students, teachers and principals who would be attacked in public schools by persons entering school campuses.
The empty headed FNM MP from Grand Bahama, who is defending criminals these days, was speaking to the Bill to Reform Fox Hill Prison in the House.
Turnquest suggested that when the FNM party supporter slapped the piss out of a respected Principal on the island comments by the Minister in defence of the principal should have not been made.
MP Turnquest also added that the situation was unfortunate and should have been handled differently. He shared that the attacker, who is a known FNM bully, had three children who have to fend for themselves now that their slapping mother was in jail serving time for her crime.
Yvonne Ward, the Jack Hayward High School Principal, was attacked Latoya Denise Williams who pleaded guilty to her crime.
Now get this: Williams is a member of the Grand Bahama Free National Movement (FNM) Women's Association.
Latoya Denise Williams, the mother who was arrested at Jack Hayward High School on Tuesday, was sentenced to six months behind bars yesterday for assaulting the principal.
Williams faced another six months after she failed to come up with the $884 the court ordered her to pay principal Yvonne Ward to compensate for broken eyeglasses, and in punitive damages.
The incident occurred in the principal's office after Williams, the mother of a 2013 graduate, was permitted on campus to see officials about her daughter's transcript in early September.
But get this: Williams could not afford a lawyer nor did any of the high-powered lawyers connected with the Party come to her rescue!
Also Williams, who was a diehard supporter, could not pay the $884 – so where were the FNM when she needed them? Where were they when she needed a lawyer? Where were they when she needed the money before the judge slammed the gavel? Where were they? Talk about late again.
And now that Turnquest sees the abandonment by the FNM of one of their own, he wants to suggest the situation was handled poorly? Poorly by the FNM!
Oh, by the way, where is the money collected for her by the FNM Woman's Association of Grand Bahama? Inquiring minds want to know.
BP warned FNMs that a bad precedent was set when Loretta Butler-Turner slapped the piss out of Andre Rollins; in-which criminal minded FNMs and the Tribune praised Loretta for her actions! REWARDING BAD BEHAVIOUR is out of style in the Bahamas!